Put together a DZ60 Rev 3. Initially all LEDs were full-on red.
I was trying to debug why some keys weren't working. I cleared/flashed different firmwares and had some trouble during one of the flashes. During this time some of leds went off and stayed off.
Eventually I fixed the keyboard layout problem by using the dz60-via.hex firmware and the VIA Gui to configure the correct keymap.
But the problematic LEDs remain problematic. I used the VIA app to diagnose the problem.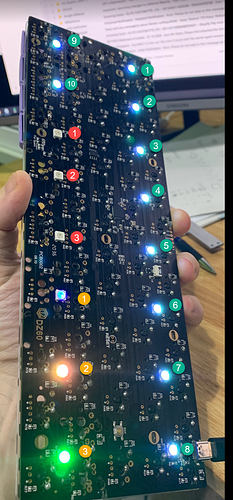 Green LED 1-10 are working perfectly. I can make them any arbitrary color or brightness and they respond correctly.
Red LED 1-3 are totally dead. Regardless of settings they do not turn on.
Yellow 1: only showing one blue hue at a very low power level.
Yellow 2: showing only a yellow/orangish hue at a very bright level
Yellow 2: showingly only a green hue at a very bright level.
I'm not how the circuitry for this should work, but feel like the arrangement of problematic LEDs
probably is a clue of what type of problem it is, or what location the problem is. It's totally possible I broke or shorted something while fussing around earlier trying to diagnose the malfunctioning keys. Although I only noticed the problem appeared after an attempted firmware flash.
I'd like to find and fix the problem – electrical measurements and microsoldering are not a problem, but I'm not sure what troubleshooting tree i should follow. Has anyone done somethign like this?