Does the color glow in the dark? I think it doesn't, but I would be amazed if it did so I'm looking forward too this answer.
I tried to make it happen. Unfortunately, it would have been very very expensive. At least twice as much.
I made a video showcasing the little details of GMK Phosphorous. Not all of them, but hopefully just enough, to get you interested and to find the rest yourself.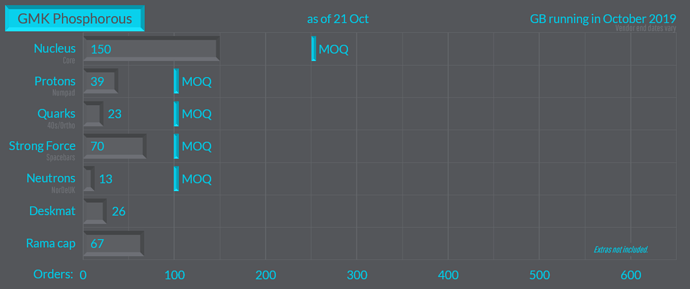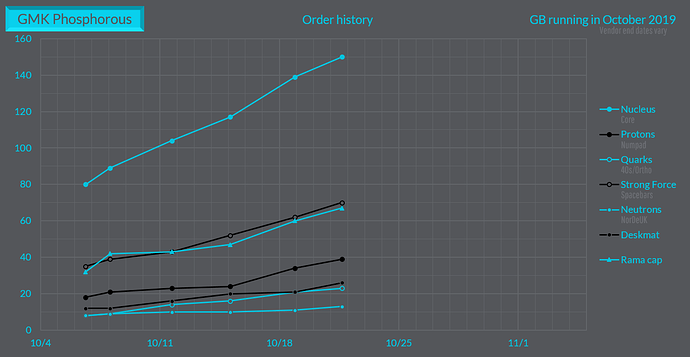 Dear everyone,
We're at 150. Now's the time go get in, if you want to, especially on the child kits. Base should hit MOQ without issues at this rate, but some child kits need more
.
OK so still getting final tallies up for this week but we're at:
Base: 215
Numpad: 61
Spacebars: 93
40s: 41
NorDEUK: 18
These are not final numbers for today — still waiting for confirmation from some vendors.
We're really close to hitting MOQ and the only "endangered" sets are 40s and NorDEUK. There's still a few days left, so let's do this!


I would really like that nordic set to become reality
We have surpassed 87% of the required MOQ and on our way to the finish line. There's about a week left so make sure to get your order in before the group buy ends.
We're currently fighting to get ALL KITS made, including NorDEUK, but we need your help, to get as close to MOQ as possible (or surpass it, ideally), so if you're still on the fence, go get your order in as soon as possible. Thank you!
Congrats

Base 237/250
Space 106/100
Numpad 69/100
Forty 50/100
NorDEUK 23/100
Deskmat 43/20
Rama Cap 104/50
Data from yesterday.
MOQ has been achieved. All kits should be made. 2 days left! Let's do this!
Numbers
Nucleus (Core): 278/250
Strong Force (Spacebars): 115/100
Protons (NumPad): 74/100
Quarks (40s/ortho): 53/100
Neutrons (NorDEUK): 23/100
Desk mat: 46/20
RAMA artisan: 111/50
(Data from 2 of 4 vendors for 30/10 and the rest for 28/10)
Hello everyone!
I would like to thank you all for all the support and help — this couldn't have happened without you!
We're currently at 300 (or slightly over) base kits sold (MOQ reached!) and all child kits will be made, even if they haven't hit MOQ.
We're in the last 24 hours or so, so don't be late in getting your order in! Child (kit) support very very welcome!
Thanks!
——
Numbers (updated but not yet final)
Nucleus (Core): ~319/250
Strong Force (Spacebars): ~122/100
Protons (NumPad): ~82/100
Quarks (40s/ortho): ~55/100
Neutrons (NorDEUK): ~23/100
Desk mat: ~51/20
RAMA artisan: ~111/50