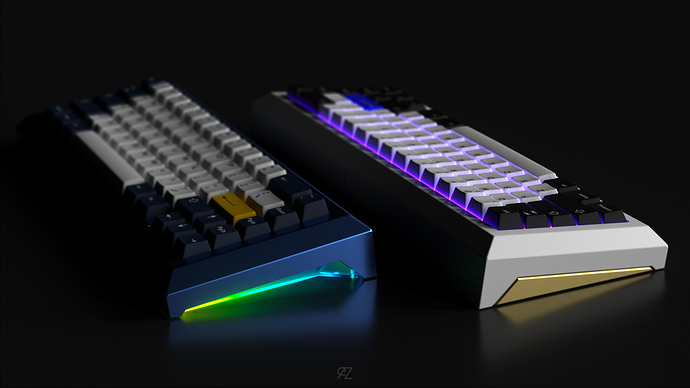 Hello everyone!
I'm here to announce that the Melody65 GB started today. This is a design from me, inspired by the old Melody96, in cooperation with Dion. Also KBDFans will host it, produce and handle the after-sale.
Unfortunately the Founder Edition went sold-out in less than a minute, but we should still have many standard kit units.
Links here
Melody65 collection - All the items
Melody65 Standard (limited to 500 units)
Price
$239 USD - For the Standard Kit
Standard Kit includes
Aluminium/Polycarbonate Top Housing (pc top can be matched only with pc bottom)
Aluminium/Polycarbonate Bottom Piece (pc bottom can be matched with both the tops)
Aluminium/Polycarbonate/Brass Plate
Custom KBD67 V2 (QMK and supports VIA) - layout of the 2 pcb's here
Matte Brass target weight with logo, coated
Renders and colors Album here
Real photos: Album here
Real colors: Album here
Upgrades
PC plate (upgrade from alu to pc plate is free)
Brass plate (+$17)
Hotswap pcb, has rgb per switch on top (+$15)
Foam Plate (+$7)
Foam Case (+$7)
E-white top (+$16)
E-white bottom (+$16)
E-white plate (+$7)
Extra
PC plate ($18)
Alu plate ($18)
Alu e-white plate ($25)
Brass plate (+$35)
Hotswap PCB ansi, rgb per switch on top(+$49)
Universal PCB solder multi-layout, rgb underglow (+$34)
Foam Plate (+$7)
Foam Case (+$7)
Alu colors
E-White
Black
Dark gray
Silver
Dark Purple
Burgundy (Red-Dark Red)
Navy Blue (Dark Blue)
Other Info
Composition: Full alu keyboard available, Full Polycarbonate keyboard available, a mix between Alu and Polycarbonate available

Typing Angle: 7 degrees

Mount: top mount

PCB: Hotswap OR Standard Solder, all VIA compatible. Also a daughterboard Type-C

Box: There will be a nice custom magnetic box
Approx weight (some combination):
Alu bottom / alu top / brass plate : approx 2.6 Kg / 5.7 lbs

Brass bottom (FE) / alu top / brass plate: approx 5.2+ Kg / 11.5 lbs

PC bottom / alu top / alu plate: 1.7 Kg / 3.7 lbs

Full Polycarbonate, no idea
Notes:
Note that the keyboard is very high and big, about 25mm from front, but we are working to make it 2-3mm lower in height. We still suggest to use it with a wrist rest, final should be around 21-22mm height
Hotswap ansi pcb has rgb on top, no underglow, while the universal pcb needs soldering and has rgb underglow, but no rgb on top. To achieve the rgb bottom, you need PC bottom and rgb universal pcb.
Photos of the OLD prototype, mixed with fuonder
Show
Underglow/RGB Examples of old proto
Show




Let me know if you have any question regarding the keyboard or the GB. Cheers!
-Jkaos