Ever since I got my first ThinkPad (T42p) during univerty, I got hooked on its keyboard. So much so, in fact, that my second laptop was another ThinkPad (T510) even though it was inferior to the competition in many other aspects.
When I re-entered the workforce, I couldn't stand the company-provided rubber domes. I went for tactiles for my first mech, a Filco TKL with MX browns (the bottom one where I've replaced the caps recently).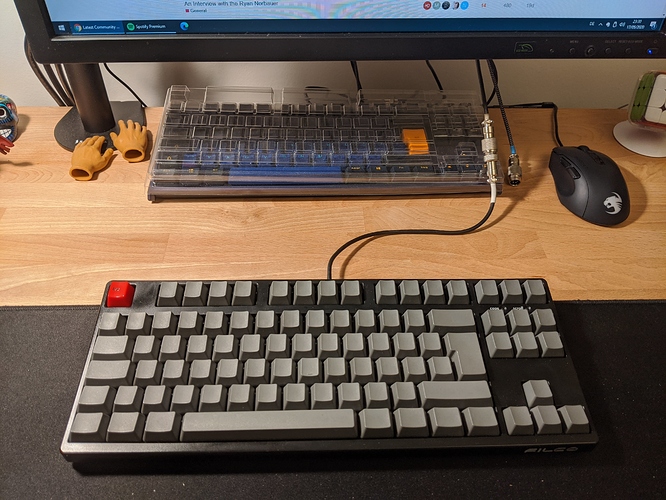 After 10 years, the Filco became increasingly unenjoyable due to ABS shine, stem rattle, unlubed stabs, spring ping, hollow case – all of which I didn't know were keeb modding staples and DIY fixable. So earlier this year I did the uninformed thing and replaced the Filco with another prebuild, a Ducky One 2 TKL with MX blues, only to realize:
MX Blues are much louder than a certain Ducky sound comparison video made me believe (maybe the Minis actually sound like that?)
I really dislike its pre-travel and sound signature, regardless of the loudness.
I can look into modding, instead of shelling out another 120 Euro (lol that would've been a bargain in hindsight, but boring).
The custom keeb rabbit hole is deeeeep. And fun. Glad to have found this place!
Waiting for parts sucks though. Especially with the limited local supply in Europe and during COVID-19.
Anyways, right now I'm looking into testing many switch types before replacing the MX switches, and picking one for my first 60% from scratch.
In fact I've already replaced some switches on the Filco for a more realistic test, and have found that I actually like, for instance, Kailh Speed Silver, a linear, more than expected, and its tactile sibling, Speed Copper, much less than expected. It's both exciting and scary that I can no longer exclude entire switch types. Paradox of choice and all.
I should probably make build plan / log posts before rambling on; but first I do want to post an intro, as this really seems like a great community.