Hey everyone,
This is the second IC for my left-handed g80-1800 project keyboard that I'm now calling "0081-08G". Since the last IC, I have improved and finalized the layout, and now I'm here again to see how you guys like the layout even though it is a little unique.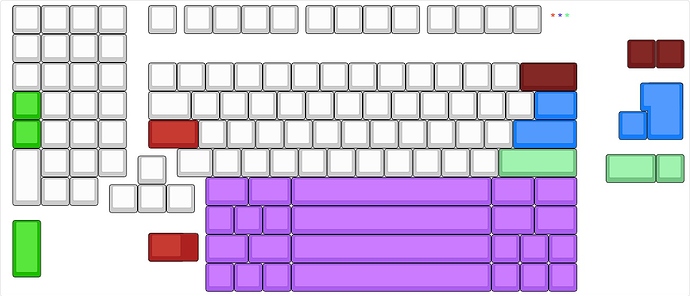 Still working on the Pcb details., so when I work out the specifics I'll edit or reply to this post.
The standard case will be constructed from FR4 similar to the Contra 40% from Cartel so that I can keep the costs as low as possible.
I'm also working with some vendors to see if they can bundle some switches into the kit, with a slightly discounted price on the switches.
Other than the switch bundle, I have some other add-on ideas to improve the appearance of the standard board. I definitely plan on at least adding support for a WS2812B RGB strip to be wired on, like the Contra. Let me know what you guys think about these other ideas and I'll see what I can do to add them as options to the kit.
Acrylic middle layer
Acrylic Hi-Pro layer
RGB strip
Any comments or suggestions are greatly appreciated.