Hello everyone,
Welcome to the interest check for the FK45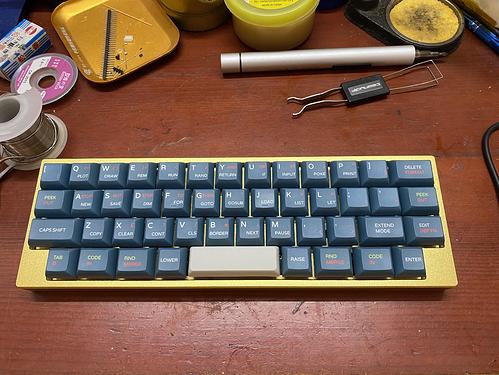 I'm a long time keyboard enthusiast, I have worked on this 40% keyboard for a while.
I already have a prototype produced, please check the album here: https://imgur.com/a/qBSPXMJ
Here are the details:
Case:
CNC'd 6061 Aluminum
Tray mount
5° typing angle
19mm front height
PCB:
ATMega32u4
QMK and VIA supported
ESD protection
two-pieces construction (not actually a feature)
4 indicator leds (in-switch)
Soldered PCB
Plate:
CNC'd 6061 Aluminum
Universal layout
Color: (anodization)
Kit Content:
Case
Plate
PCBs (key and controller)
4x square leds (different color) for in-switch indicator leds
other hardwares (screws, bumpons)
Optional stuffs:
Plate-PCB foam
a set of PCB-mount stabilizers (including 3u one)
Pricing and sale format:
Price: 140 USD + shipping
Quantity: 30
FCFS through my store (which is not yet available)
The board will be shipped from Ha Noi, Vietnam.
Timeline:
GB Start Date: TBD
Estimated production lead time: 6 to 8 weeks
If you're interested in this keyboard, please fill out the form: https://forms.gle/eSXnd4KUVSisJ3Nf8
Any and all constructive feedback is great! Thank you.
Edit:
9/13/2021: revised layout