Updates for the GG60 and initial GB
GG60 Kits include as follows. (switches and keycaps are not included in the kit)
1x alu case
1x plate
1x PCB(soldered)
One set cherry stabilizers
One set screws
Features
QMK / Hotswap with Kailh socket / Bluetooth 5.0 / Alu Case / Type-C port / Charging indicator
Other information
There is no backlit for the initial GB, but the PCB supports SMD lights.
Besides black and red, maybe add one more color option for the case, probably grey. (We know many people want a white case, but due to the high defect rate, the price will be affected, we will release the white one in the future than now)
ESD protection was added
Switch direction: South-facing (in case of keycaps interference issue)
Cherry stabilizers (pre factory lubed)
Only ANSI layout for the initial GB, ISO layout coming later(2nd round GB)
You can choose to buy a PCB separately
GB opens between May 20 to June 10, exact date TBD
We provide free assemble service if you need it.
——————————————————————————————————————————
Hi, everyone! This is Chao. GG60 is a minimalist mechanical keyboard kit, it was designed for the people who like portable and small keyboards, the wireless function quite fit for the people who like travel and work mobile, one charge can last over 2 months.
We hope more and more people can enjoy a premium custom mechanical keyboard. So we tried our best to make it an affordable custom keyboard kit, only $99 for the basic kit.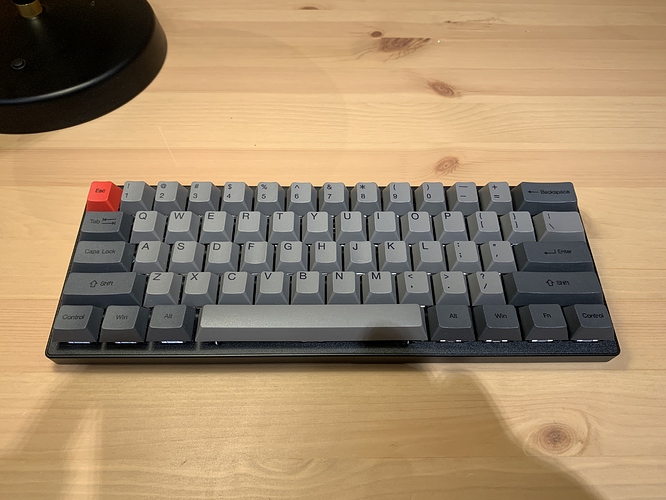 More photos here
GG60 features:
Anodized Aluminum 6063 case

Bluetooth 5.0 with 2000mAh Lithium battery (estimated 2 months duration)

Hot-swap socket

QMK - fully programmable

Type-C terminal, Dual-mode, Wire/Wireless, charging when cable plugged

Black PCB with Gold pads

Switch south-facing

Low battery/charging indicators
Pricing (USD)
Basic kit 1: $99 (including Anodized CNC Aluminum Case, PCB, Aluminum Plate, and necessary tools, screws, etc.)

Basic kit 2: $109 (including Anodized CNC Aluminum Case, PCB, and Brass Plate and necessary tools, screws, etc.)

Extra Case: +$50

Extra PCB: +$50

Extra aluminum plate: +$12

Extra brass plate: +20 USD

Shipping fee: $35 for all locations, DHL Express
GB time: TBD
MOQ: 100 pcs