Ugh. I need sleep. Thank you.
I want this set like yesterday! I have no green color way keysets, other than a cheap Tai Hao set.
I'm thinking about adding a NorDe kit as there has been a fair amount of requests for it (no guarantees). For those of you who would be interested in this kit, am I missing anything or have any of the characters wrong?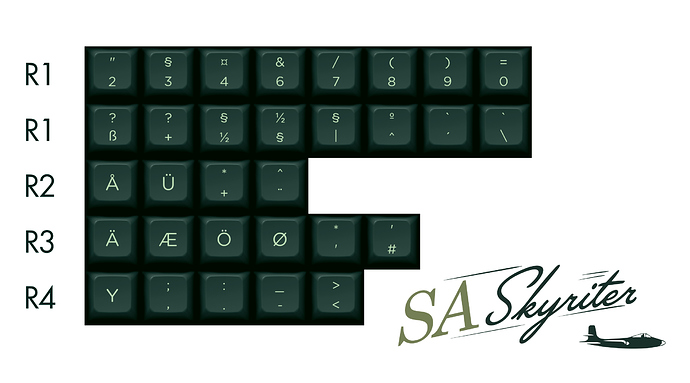 Pretty sure Oblivion had 3-4 legends actually. As an aesthetic decision, are top and bottom legends sufficient? In keeping with the typewriter theme they never had more than 2 legends from the era that I'm basing it on. At least as far as I can tell!
That's more than I know, but I think the r2 Z is important for the Germans.
Aesthetic wise It's not a deal breaker for me, but the legends seems a tad small.
Added the R2 "Z". As for the legends this is just what Keyboard Layout Editor spits out. I might have to do these legends by hand just to better reflect the real legend sizes. I'll be using existing moulds which are the regular dual legend sizes.
Ok, ye existing molds should be right.
I think this set would look good to mix&match together with the SA Godspeed + Ares mods I already ordered. But I need to find out if I like SA first.