At first I thought lower but sculpted. But it could also be R3 uniform MT3 I guess.
Oh, truee. That would be interesting too.
I'm getting my torch and pitchfork ready just in case.
I think someone here was looking after the NCR80 in beige? it's on stock on YMDK's store, the vendor is trustworthy as far as I know.
Looks so good, if not for the price this would have been a purchase.
Directly from their store is cheaper, but for some reason the shipping is more, so it's a toss up.

Just remember the gray photos are not accurate, as discussed here: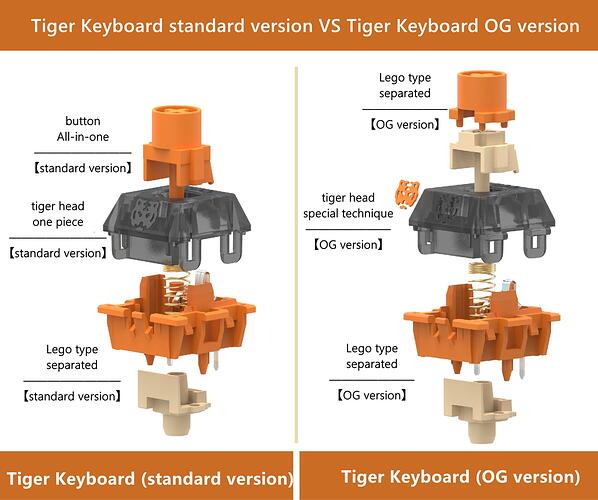 Looks like the TTC Heart switch has a new sibling: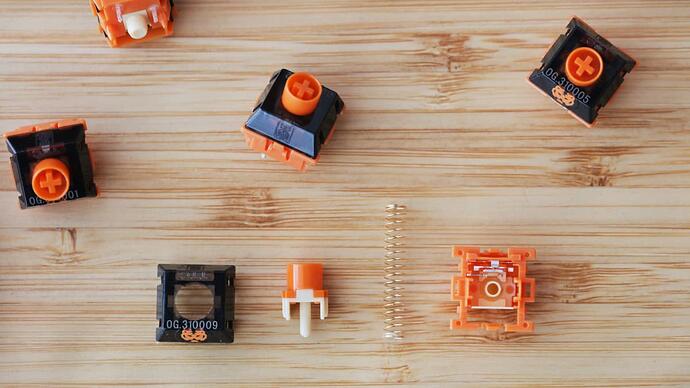 Photos like the above and some other information here:

Speaking of TTC… look what the Tennessee* (Arizona) keeb warehouse has in stock:
Think Gold Pink, but with the bottom dampener from a Bluish White and a stem-mounted top dampener. Also the stem is clear, because everyone has some of that going on these days.

Note the sliding price scale; if you're buying a full-size keeb's worth of these they're 60 cents rather than a full buck each. You can also get them from AliExpress, etc.
I also saw that TTC has an "NCR" switch; seems aesthetically suitable for the NCR-80 kit mentioned above.
I actually have like 5 of those. They came with a box of TTC Chaotic Pandas that I've been too busy to pick up from customs…for a good 4-5 months (totally, did not realize I ordered these on November 2021. 3 months was me being conservative in my estimate).
Small caveat, the TTC NCR has a V1 and V2. The V1 was known for some leaf issues that made the linear more of a tactile…the worst ones made noise, and kind of turned into weird clickies. Could've been a bad batch, but I know I'm not the only one who had these issues.
I presume the V2 has fixed those cause I haven't read of any particular complaints with them. Take that statement with a big helping of salt, since I've never tried the V2s.
GMK sets under $100 on Drop right now:
One day I'll drop $$$ on one of those sets and see what's all the fuss about.
Great discounts, high shipping for me sadly.
The quality and price gap is filling up quickly, so maybe GMK/SP won't be "worth" the premium in the future.
But, some designers prefer GMK/SP ABS because the color reproduction is better and (for SP) they have some wicked good dye-subbing….so, maybe hold out for a set you love and only comes in GMK

If anyone is interested in providing feedback, KBDfans has an IC form up about the next round of KBD67L cases:
By "SA" you mean Signature Plastics ? Because there are quite a few other manufacturers who produce SA profile keycaps like Maxkey and Domikey (which both are quite good too for this profile)
Ah yes, thank you

. Changed it to SP

If anyone is interested the ePBT 9009 set for the KBD67 Lite is available on KBDFans's AliExpress store.
Slower but significantly cheaper shipping for international shoppers.
Font is a little shmeh in some places but overall looks pretty good; Tecsee has some doubleshot PBT caps available.
Found a new keycap profile called SAL from Akko that I haven't seen before, seems to be doubleshot abs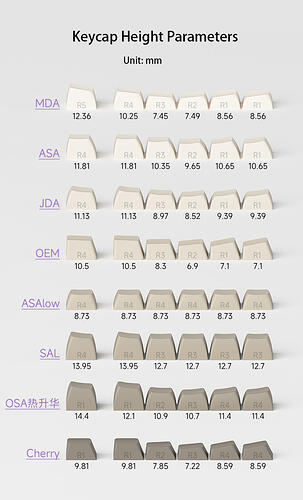 The product description mention stretch marks as reason for the cheaper price
https://aliexpress.com/item/1005004124480738.html
The same store also have akko ASA PC set
That's INTERESTING. Very cool IMO. I'm gonna need to give those ASAlows a go too.
This chart is quite dubious!
Are the bottom three rows of OEM actually lower than Cherry? Doubtful.