Ordered Epoch 80 in stock It arrived quickly.
Problem: Extra Machine marks in grooves on top
Problem: Top Warped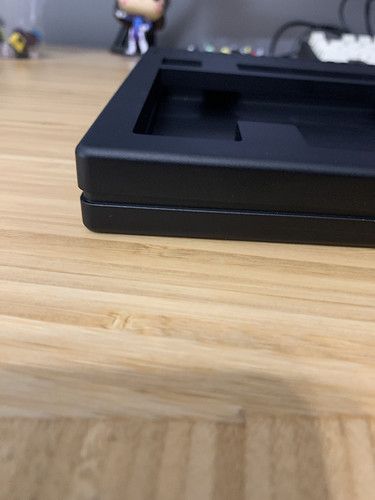 Contacted Customer Support on Discord
Support: "Please make a video and upload it to youtube to show us.
Me: done
Support: "my manager says it will be fine once you get it fully assembled"
Me: I can live with this. If you crank the corners down realllly hard it gets rid of all but 1-2 mm of wiggle
Problem: Plate is cut wrong.
I don't know if the material expanded or kerfs were off or what, but I cannot get the switches in without a bow so strong it forces them out on the edges. It's also just a bit too thick so the only switches I can get to snap in are Cherry. Okay… so I lube up and film a full set of blacks for this. No dice. Plate borked.
Customer support: "Solder in the 4 corners first and it should work"
Me: Yeah, I cannot even solder in the 4 corners. It's that off. Stabilizers also making it so that the plate wont work. I can cut the plate, right? Wait. What the hell? I paid $300+ for this board.
Enough is enough
Me: I would like to return it. It's faulty in many ways.
Customer support: "Can we send you a new plate?"
Me: I would like to return it.
Customer support: "Take this link"
RMA Link filled out. But… I have to pay shipping. So, thank God I have a 75% discount on FedEx. $70 is what it will cost me. Yeah… it's arond $300 to send it with UPS or Fedex non-discounted.
Shipping to China
But here's the thing… you can't just send something to China. It's rather hilarious all of the things you have to learn about to get this thing mailed. I've talked to 2 FedEx departments, the census bureau, and the Bureau of Industry and Security.
I think I'm ready for FedEx to be my AES/INT agent now. I've emailed back and forth about 7 times to get it straight. Waiting on a reply.
Anyway, I guess I never thought about returns to China before. I just assumed they would do a return label. But nope, I asked on discord and they said "sorry, we don't have a return label."
So… I'm off of KBDfans permanenetly. I never thought about the risk of not being able to return. The game has changed so much in the past few years that I should be more than capable of moving on and only dealing with non-Chinese vendors. The regulations for shipping to China reared their ugly heads.
I should have known this risk. It's partly on me. But KBDFans is still in the wrong here.