AFAIK, just recolored gateron switches
Weight is a bit different too but they are really expensive…
$40 for 70 switches… That's $1.75 per switch. They better have something changed or good… Otherwise it makes even more sense to just get inks no?
57 cents per switch; cheaper than inks, more expensive than most gats
Reminds me of Gateron mito laser switches… I'm not sure if there are any large differences with the new switches.
They look pretty, I'll give them that
The reason I posted this is that I feel that if someone is going to bring a new switch to market, it ought to bring something new and innovative. If they said, "Smoother than anything yet!" Or "Sound is the best thing since Beyonce!" I'd be into it. But is there anything new here besides color? Not that I can tell.
At least with tactile switches, you can try out different kinds of tactility, even if the differences are minuscule. At this point, I feel like MX style contact switches have gotten about as good as they are going to get. We need to get switches like the light strike, omni point, hall effect, or the switches that will be coming with the keystone board. The next leap in linear switches will be these kings of switches that you can solder into any board. Until then, it's just more of the same and I'm pretty happy with Tealios, Tangerines, Inks and Creams. There's lots of pretty good options out there already.
Necessary? No, however while my switch aesthetic priorities are feel > sound >>>>>> color, offering a variety of switch colorways makes sense to me.
Also, feel and sound preferences come from experience but you can tell if a switch is a color you prefer immediately. This is a way to differentiate your switch to people who are new in the hobby.
For example, I am not a car guy, so I no nothing about exhaust noise preferences and have no preferred differential gear ratios. But if someone pops their hood and their engine bay is so chromed out that it threatens to burn out my retinas, my reaction will still be "OoOoO, shiny!"
Yeah, if it's purely for color, I can see how people would like that. Not for me though.
I'd love to make a keyboard PCB with these keystone switches

I feel like all of these different switch colors are getting kind of ridiculous…
Just give me clear, white, or black housings, and call it a day…
When I last checked the drop page… It listed 70 switches for $40


EDIT: It lists 70 switches at around $48 for me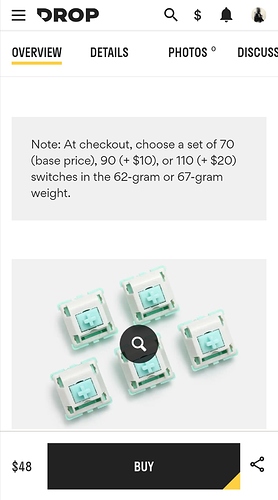 Yeah I just checked as well and it's $48 for 70 switches
which is $0.685 per switch, not the original $1.75 per switch you calculated.
If it was that expensive, 70 switches would be $122.50

I messed maths up again didn't I?


I just divided 70 by 40…got 1.75
I am probably doing something wrong here but I haven't slept in 3 days at this point…
My maths teacher is probably screaming by now…
I think they are planning to make some resources available for people to do that at some point down the road.
I love all of the recolors just for the fact I primarily use linears with MX switches. But beyond the aesthetics, I don't see a real point. However, I still stick to my Cherry MX blacks because it has my favorite weighting, and I don't really do any switch modding anymore.
With all that said I considered ordering some today only to find that my $30 of Drop credit expired. Oh well, one less rabbit hole for me to go down.
They might give it back if you email them

The thing is that I don't see what they would match together with! So the looks alone won't make me want'em…
Leave it to Drop to make a Gateron recolor that's more expensive than everyone else's.
Just in case you haven't solved this puzzle, you need to divide 40 by 70