Here's a big Thank You to you @Deadeye for your verbal description of the KangaRoos a little while back. I think you are spot on — I love them

Divinikey Oni switches
I love it when they come with stickers!
Pro tip: a small torch is perfect for molding stickers like this around curves like this jar has. It doesn't work on all stickers, but most are vinyl, which is a thermoplastic.
Normally this sticker would quickly ripple and peel up where the jar starts to curve, but smoothing it down firmly and then briefly hitting it with a low torch flame will drape it around the curve.
Something important I've discovered, The Tecsee Carrots seem to strech keycaps.
I've noted they sit tighter than all of my switches, even tighter than the U4Ts and BOX switches which are pretty tight, and it does seem like they're abnormally tight.
My Tecsee Purple Pandas (PP) have a pretty loose stems, not an issue with most sets, but after a set that sat snuggly on the PP was used on the Tecsee Carrots, it's loose now when trying it on the PP again.
When testing with other switches (e.g. Gat Yellows) they still sit snug, but it's a bummer as it's one of my best sets.
So be aware, they're still great switches but proceed with caution.
I had this issue with my set of rama's first round of pbt heavy industry caps…my fix ended up being those clip on zealencios though i doubt you can find those anymore. I think another manu made something similar too but i can't recall - maybe gmk? This was particularly noticeable since i was using silenced switches so the scoop hitting the switch was completely unacceptable for me hahaha.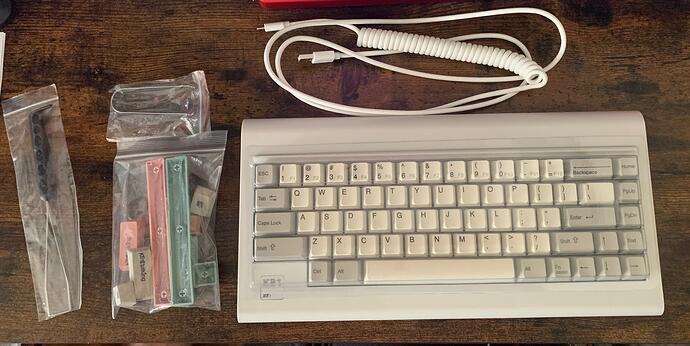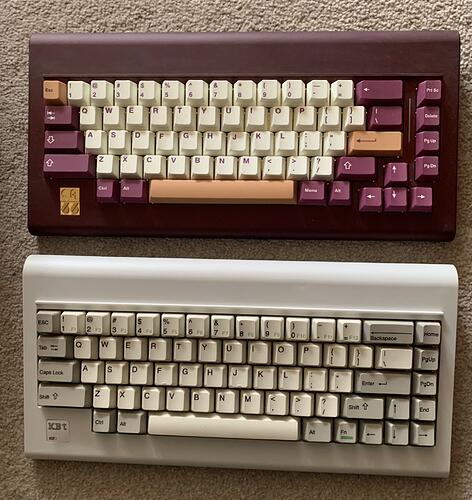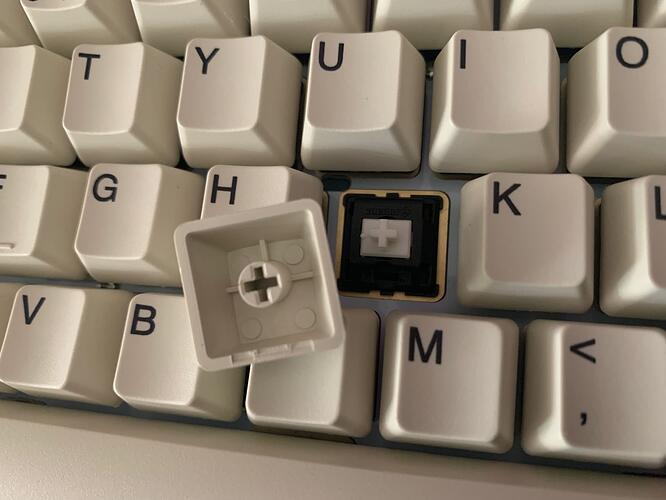 Here's the new Vortex board, based on the IBM PC Jr. I love the layout, extras are nicely put together and a welcome addition, the plastic case feels light but not fragile, the stabs will need tuning, keycaps nice and clear as well as being thickish. As it stands I'm happy with it, not had a full chance to try it out (apparently it's hotswap and Bluetooth) but I'm loving the vintage vibes.
Added a comparison pic with my CA66.
Let's hope Vortex follow through with their M0110 and Mini Model M inspired boards.
Uh oh, hopefully that doesn't turn into the same issue the original box switches had with cracking ABS stems over time.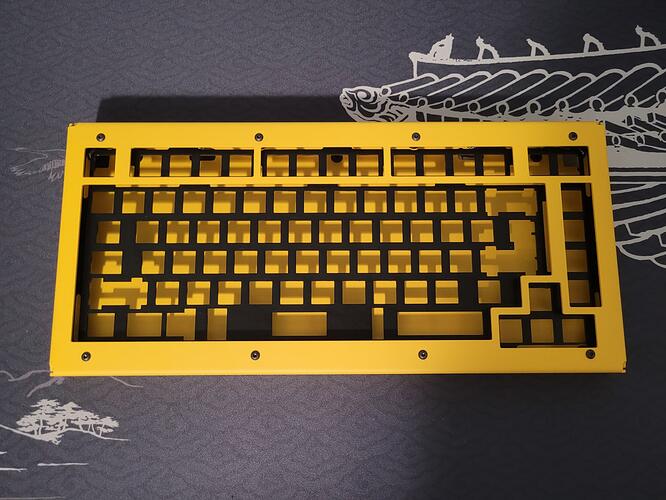 My HMKB 75 finally came in a few days ago. I did a "dry fit" assembly to make sure that all the parts were included, and that they went together properly. The powder coat looks even and has a nice texture to it (the saturated color is what I was expecting as well).
Not really a complaint, but I will have to get a POM plate cut, because the steel "leaf spring" plate has no give whatsoever. I can't really comment on the feel or sound otherwise.
I just got a new Latrialum cap from her latest sale! Another to add to my collection of blue caps from her.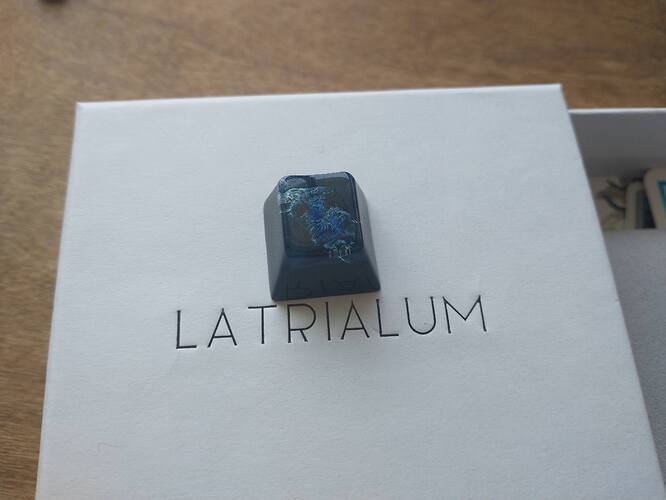 I hadn't actually won any of her raffles for the past 2 years (didn't enter many to be fair) but I'm impressed with how much she's improved everything, from the packaging to the thickness of the caps. I can see why they demand such a premium on the aftermarket now.
Old vs new: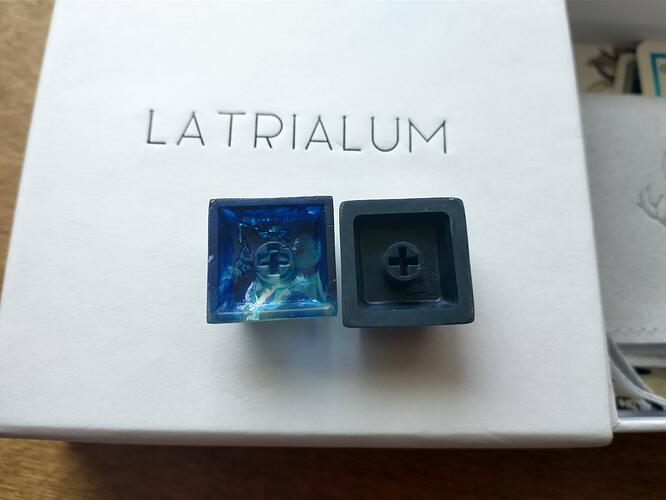 Full blue collection: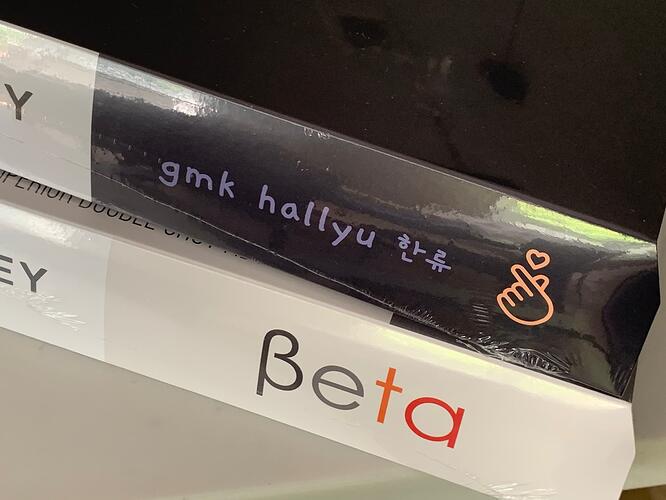 Really like the blue on hallyu
Here's a comparison with Rudy blue (same blue as striker dark accents). Rudy is the 4 cap on the left. Right is Hallyu.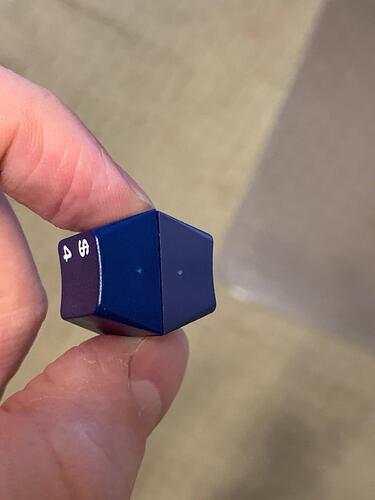 Ah man. I knew I should have dropped some money on these…
Speaking of Clickiez, someone should make switches that sound like these WW2 airborne clickers.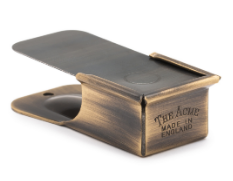 Do you have any initial thoughts on these? I'm intrigued because I like Divinikey but my experience with long pole Tecsee switches in the past has been mixed. I think Salmons are still some of the loudest switches I've ever tried. I love them but I doubt everyone within a half block radius that can also hear them does too.
Haven't mounted them yet, but they're next in line and I'll share my thoughts when I do.
So far I've liked the HPE housing switches for the feel of the plastic; definitely less harsh than polycarb in terms of hardness, and maybe also a bit less harsh than Nylon when it comes to the bottom-out sound.
Please report back on how it works! If I'm not mistaken, GPL 206 is a thicker version of good old 205g0?
I certainly shall - and yes. This is 206g2; 206 is thicker than 205 at the same temperature, and grade 2 is more firm than grade 0 in general.
I feel as though I'm closer to grasping the numbers / grades thing in-full, but I'm not quite there yet. One thing is for sure, though: bigger numbers = less runny.