Nothing fancy, but a iKBC MF87 in ISO with MX Browns. Not sure what I think of the browns, but this is a really nice off the shelf-board!
The stabs are not rattly, no reverb or pinging sound when typing and it's fairly heavy (2 kg?)
I'll probably swap the switches in this at some point, just not sure what.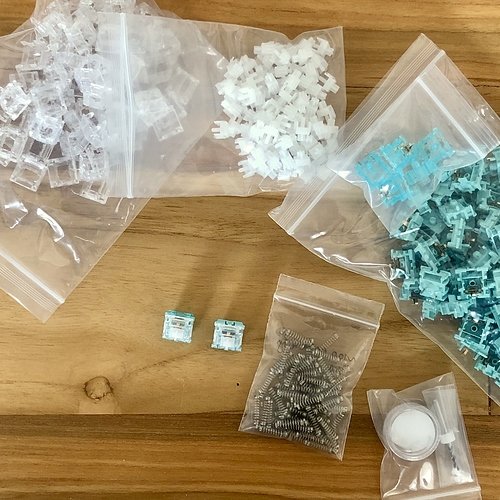 Switch parts from hbheroinbob.
Silent Skies. Some ICE bottoms, SKY bottoms, clear closed-slot tops, silent stems. Going to build something akin to the Heisenberg.
Initial impressions are great! Bump is a bit sharper than Holy Pandas but less sharp than Novelias and still has some roundness to it. Bump starts pretty much immediately and doesn't have too much wobble. Bonus: they're silent!
Edit: one more thought for now. They have quite a mushy bottom-out so if you like a crisp feel these are not for you!
Teensy and 1.5u / 4u blanks for the ortho TKL build; stepper motor and load cell for the force gauge project. Things are coming together!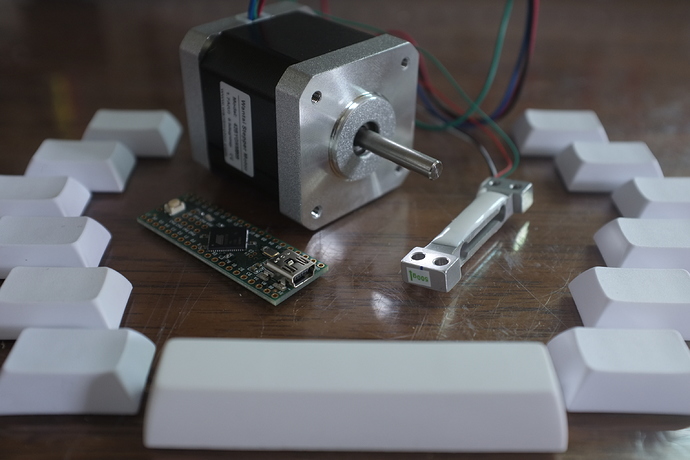 Makes me wanna build a 'dancing keyboard'. At my high school, there was this old terminal with powerful solenoid that made it jolt each time a key was pressed. It was bolted down to the floor but got loose somehow and started dancing around which made it even more enjoyable to use.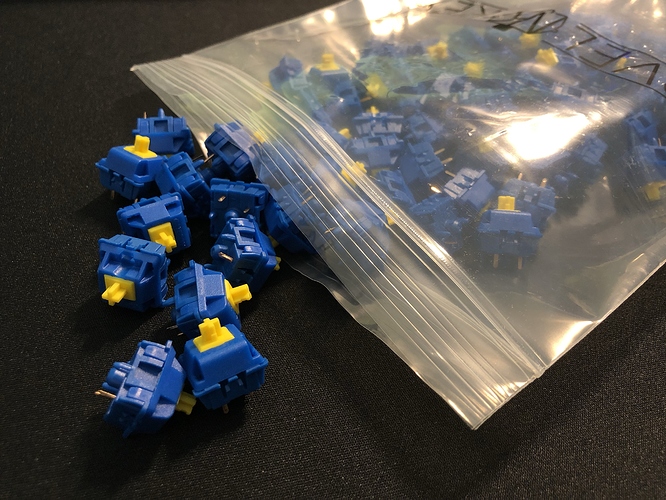 Linjar!
Currently separating them in preparation for a lube job with some Christo 129 that should be coming in a few days…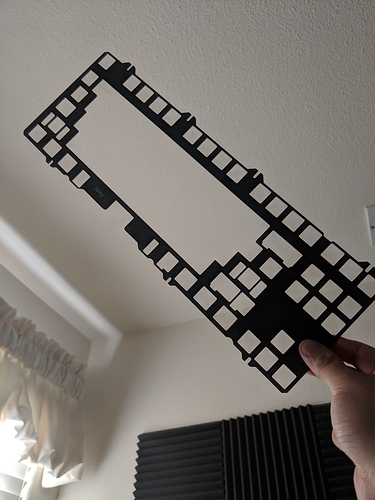 FR4 Half plate from @hineybush!
Maybe I should do a Mira rebuild?

I bought a IIc keyboard module and after receiving it realized that I had bought the dreaded Apple Scissor switch module, and not the alps version.
But now I have one of the worst switches of all time which I guess is nice.
What a number!

I wasn't sure about how useful those films would be, but I slapped them in some of my Creamy switches, and wow they work a treat. I picked up 4 sets after that.
I am also surprised by how good they are. In the past, I have used switch stickers but these are way more convenient because you can reuse them easily.
I've also found that switch stickers don't have quite the same type of hold as the films. Would recommend films 100% of the time over stickers.
I also got in about 300 switch films from TX and put them on my Cream switches. Definitely tightens everything up but as Walker said, they have a hard time closing all the way. I don't think it'll be a problem as all of the claws are over the clasp.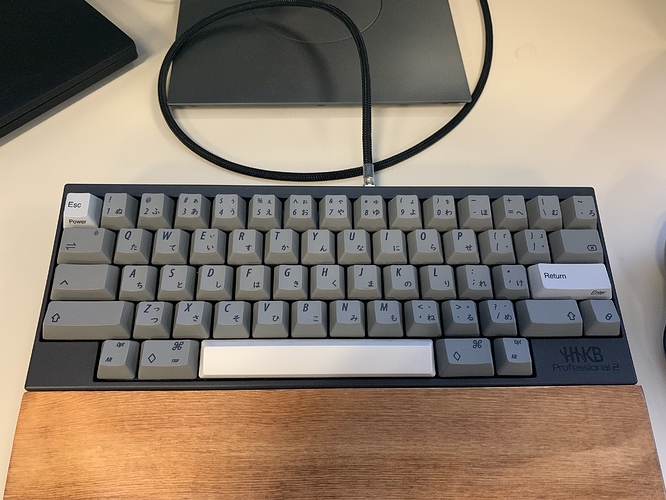 New keyset for my daily at work.
Ive been wanting this set for a while now, so happy. Unfortunately KBDfans forgot to send me the Esc, Return and Spacebar XD. I messaged them about it already, so hopefully Ill get the missing keys soon.
Ill have to improvise with some other keysets I have once I get home i guess.
I really loving the new look.
Fixed (for now):