I've got the keeb to go in the case, just haven't installed it yet, haha.
Ha, I meant me - that glorious case is making me ponder irresponsible purchases…
I was a good boy this month and didn't buy a modern modelfkeyboard like I wanted to.
I did get a YAS62, and I have no regrets about that.
This is my 3rd Heavy-6…

<thomas-ran-voice>Noice.<thomas-ran-voice>
You might need some endgame stickers to go on that puppy! I've just ordered some for my endgame (YAS62 I'm typing on right now). InfinityKey also have "OVERKILL" if that fits the board better, haha.
My precious package arrived today, containing my Winghead keyboard cases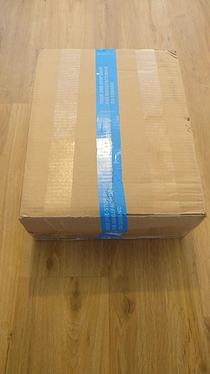 No time to open it yet but will soon give news in the related Keebtalk thread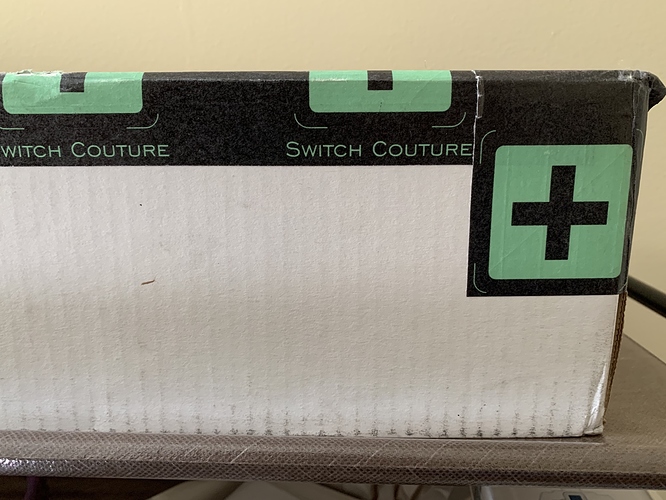 Bit late, as this came a few days back, but my Electrotype87 arrived the other day. Haven't opened it up yet but now I gotta finalize plans for what switches I want in this build, etc
Yo. I got my susuwatari set!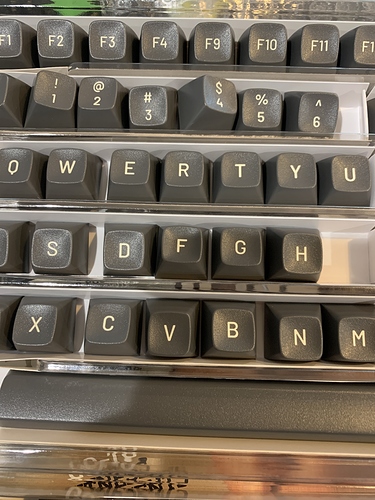 They look REALLY nice! The color accents on the mods are good too!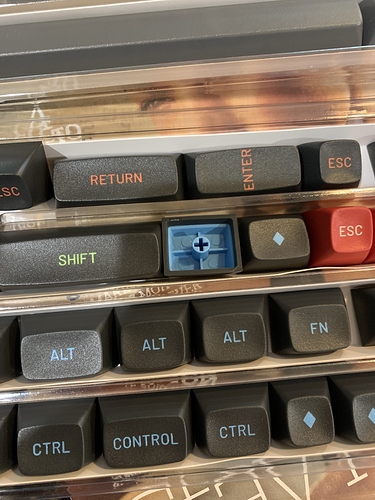 Some weird things going on underneath on some of them. Probably won't be an issue though
Biggest thing I noticed was they are quite a bit lighter in the hand.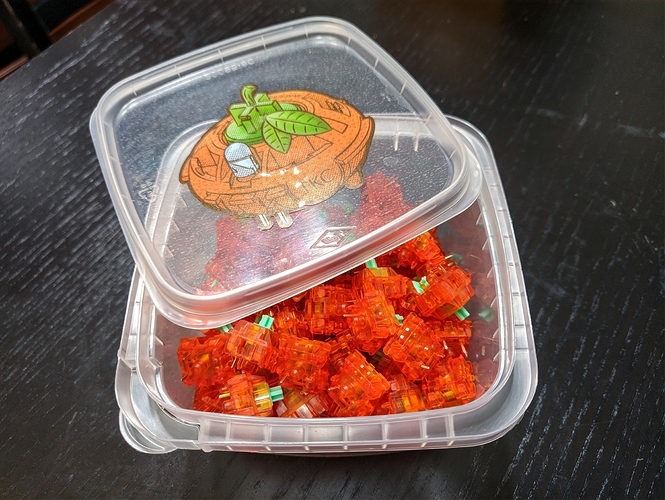 got my tangerines in today. Not sure if I'll use these or my recently lubed and filmed (and stem swapped with cream stems) gat yellows. The tangerines are super smooth bois stock. I can't decide if I want to take the time to lube them. I'm not sure they will benefit from it enough to be worth while.
I got 99 switches but ordered 100. Not gonna worry about that though.
So have you noticed anything odd with the legends that you'd think make Matt3o bemoan them? or was it him being too critical as a designer?
Hype! These look really good. Rarely have I seen a production set match their renders and these are no exception, but these are some fantastic looking caps. I can't wait for mine to arrive! @givemeyourshoes Same hype for the Tangies - any day now! Also I was so sure you were about to make a Jay Z reference I had the song going in my head and everything.
I got 99 switches but they left out one
I'm not all that picky when it comes to legends. The only set so own that I have issues with is the cubic set with dissimilar font sizes on the modifiers.
But these look very good to me. If I were to guess, the gripe will be with the secondary characters on the numbers. Dollar sign and ampersand look a bit large compared to the others. Carat looks a tad small.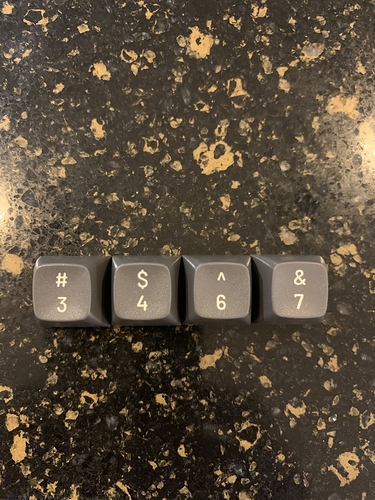 I don't see anything else that seems wrong.
Spoiler below. The bonus cap! It comes in a separate little baggie. Don't throw it out accidentally!!
Click to spoil the surprise!
Well I don't have the Tangies or Susuwatari yet, but I did get my hands on some Silent Inks: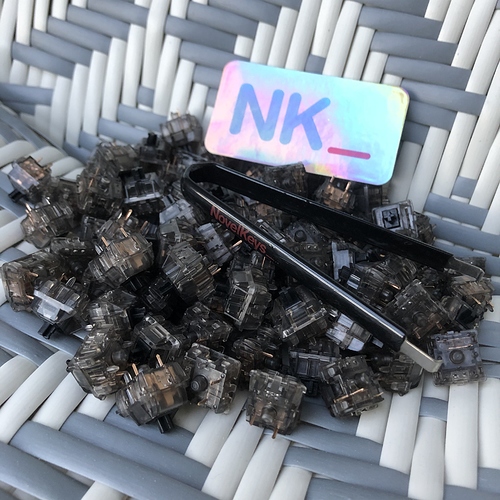 …complete with a much better switch puller than the hand-murdering device that comes with a lot of boards.
Novelkeys almost always throws in a free sticker. So far, I don't think I've gotten the same one twice - and this one might be my favorite so far. It goes perfectly with my modest levels of hype for Cyberpunk 2077…
Milkshake came in. Thankfully not as bad as some people have gotten; there are a few issues with the corners on some of the caps but nothing substantial. There is a little bit of the swirling going on with the white but you have to be looking at things at the right angle to spot it.
The only somewhat large issue is one or two of the 1u keys seem to slide on quite easily, still usable but not great. I might still ask for replacements for that whenever Keyreative gets around to fixing the issues with this set.
That said I really like KAT…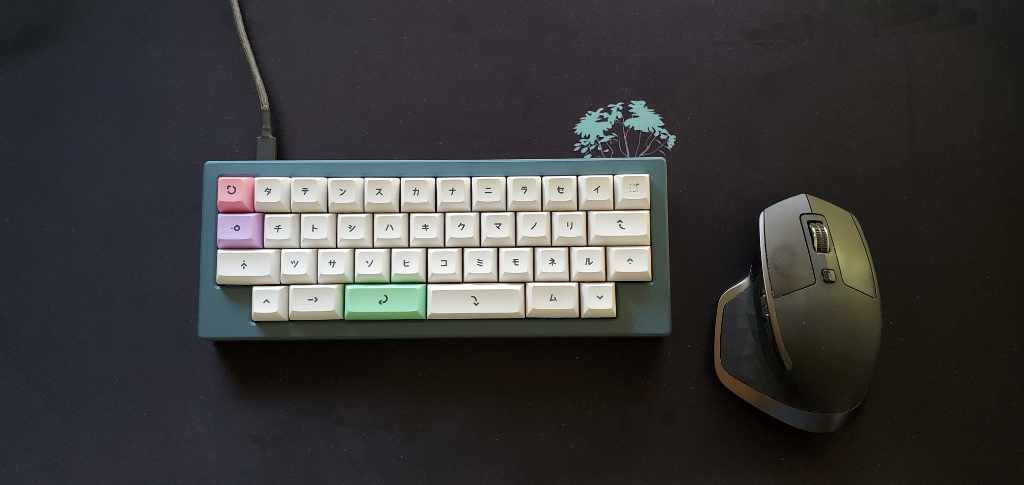 3 different packages came in today!
One second hand aluminium case for my dz60.
40 Helios v2(don't ask me why I only ordered 50 the first time)
Lube, films, springs, stabs and tools from keygem.store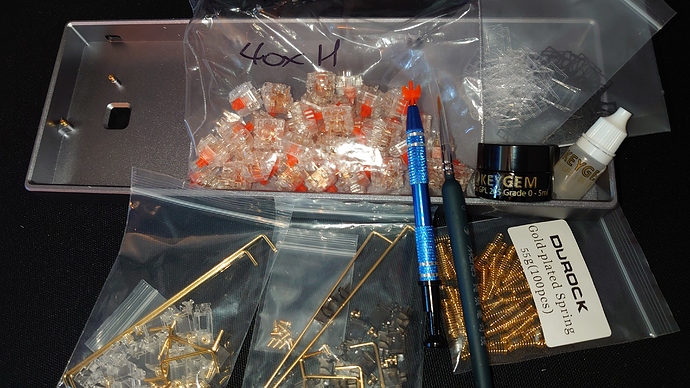 (no sticker tho

)
Edit: There was a sticker! =)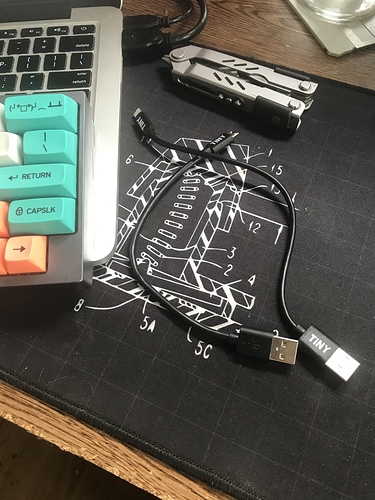 Not from today but I forgot to post yesterday… I got some Tiny Cables, USB A to micro and USB A to lightning. I really wish they made USB mini cables, and I've leaned on them a little bit to do so, so here's hoping. They're a tiny company with full transparency (they blogged about their startup), they make good companies, and for full transparency I did their logo.
I have no idea why there is not sticker! I will slap the one who packed it