got a used HHKB Pro 2, white printed, date 2016-03 for cheap along with a wrist rest and extra cable. and so I finally own an HHKB after years of using Topre and now the expensive modding to commence LOL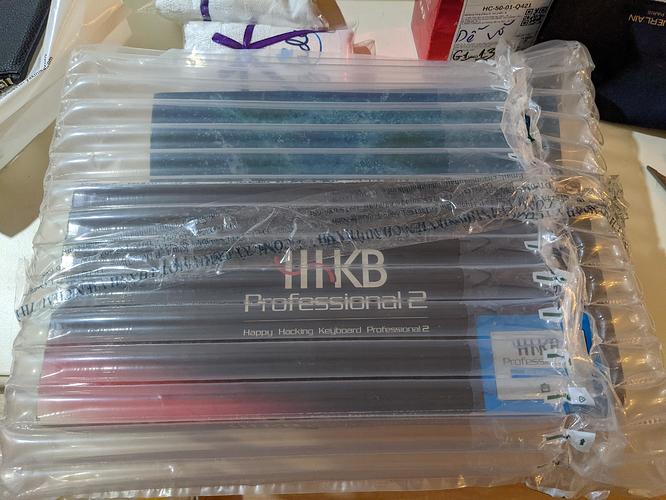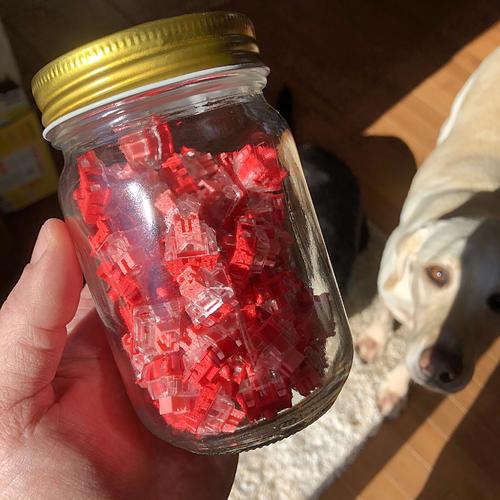 My Flamingos came in today. Tucker the doog was already here with his buddy Whisper.
First impressions of the switch are in-line with
@Neprawda's; less than average grain in the feel but plenty of friction sound.
Very similar to a Frog with more spring weight - maybe it's just that higher weight demanding a bit more movement force causing it but the friction noise does seem more noticeable with the Flamingos. Feels really stable; not much E/W wobble and basically zero N/S wobble. A bit more spring noise than the Frogs but it's not bad. Overall a very stable feeling linear.
I'm still here! Just very, very focused on taking care of a newborn

But finally, a much delayed mail day! These were a bit spread out but time is an illusion to me right now so I'm running with it. The Kei delivered the same day that my daughter joined us so that's always going to make it special. I don't know when I'll have a chance to build it but the royal purple and brass combination is stunning. And to go along with it, some Frogs that I preordered ages ago! Looking forward to trying them out soon.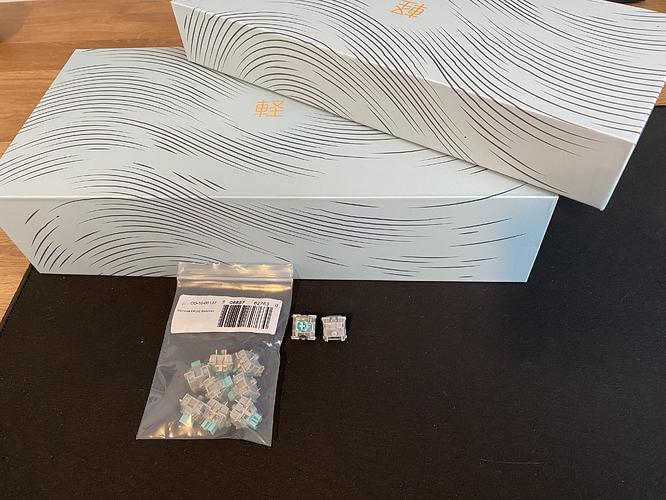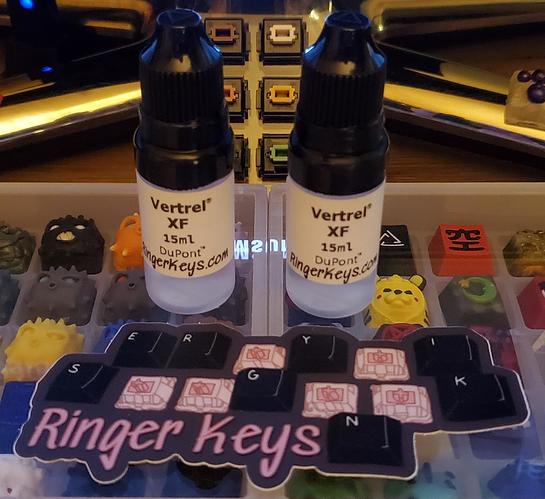 Finally got some Vertrel XF. This is a plastic (and many other materials) safe solvent made by Dupont that excels in cleaning lubes like Krytox & Tribosys off surfaces. I grabbed 30ml to start with, but I can already see I'm gonna need much more. Ideally I'd like to use this in conjunction with a ultrasonic cleaner, but I wanted to see how well this stuff works before buying in bulk. Also I've heard this can be cut with other solvents while still retaining it attributes that make it good for cleaning fluorocarbon lubes. That's gonna take a little research though. Will report back if this stuff is worthwhile or not!
I watch patiently, and with great interest.
---
Not sure about Tribosys, but Krytox is also made by Dupont.
Most of you probably knew that, but I only learned it recently, from KeebMonkey('s social media person). They were answering a clarification question I'd asked about their own branded 105 / 205 lubes (which are meant to be similar but are made by another manufacturer).
What is the plan with that tape?

I have a few plans for that tape.
I'm going to try it as a means of tightening the tolerances in some of my more loosey-goosey stabs first.
I also just this second decided I'm going to see how it goes putting some in the Big Switch.
Not sure what else yet, but it seemed like a good thing to have in my slippery stuff toolbag. Thanks to @ajoflo for sharing this video that explains a few slippery tapes: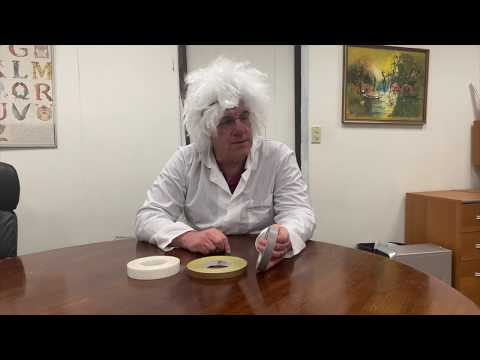 say uhhhh do you happen to need a kidney or liver? lol still though that looks really nice and clean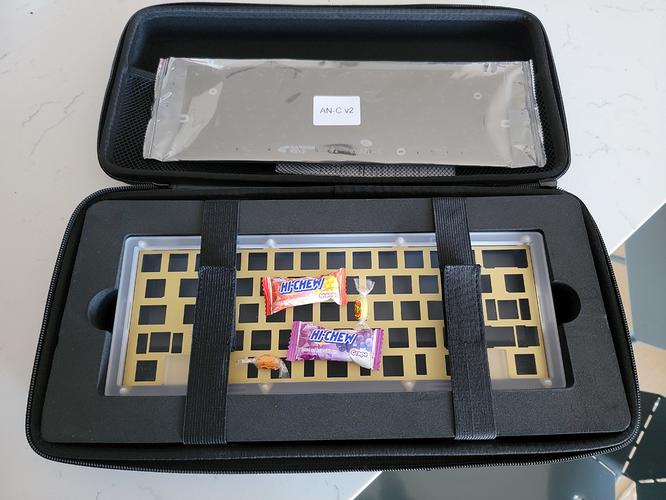 Bacca60




Thanks @davisthegreat @Chewwy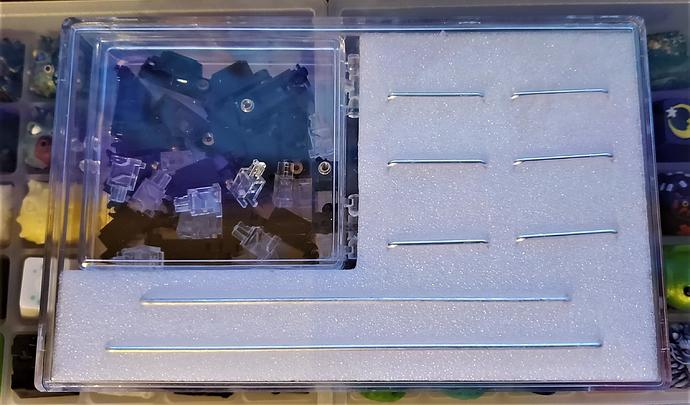 Got my NK screw in stabs in today, on a quick inspection they seem to be just like V1 Durock stabs! Really wish I would've grabbed more at the sale price, but even at full price I think these represent a great deal. I did not realize you get 10 sets of housings & sliders, 6 - 2u wire, 1 - 7u wire, & 1 - 6.25u wire with each kit. So it's basically like buying 2 sets of Durock stabs at once since those come with 5 sets of housings , sliders, etc. Oh all the wires were straight also if anybody wanted to know. The only nitpick I have is these do not come with washers. Will report back on how they are once I get some in a build!
Interesting that they still say "Designed in Raleigh", didn't they start manufacturing them in-house prior to the latest sale?
Congrats on the raffle win, the No. 1 is an incredibly classy board

WoB PBT doubleshot keycaps from KBDfans. 1Us were mostly fine. Longer keys had more issues. Texture is not as smooth as ePBT nor as pleasing but acceptable. Reminded me of textured ThinkPad keycaps.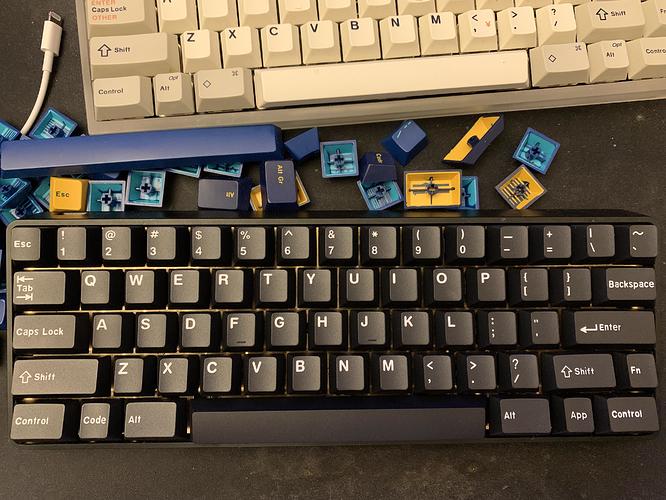 From left to right: CRP, ePBT, WoB PBT, GMK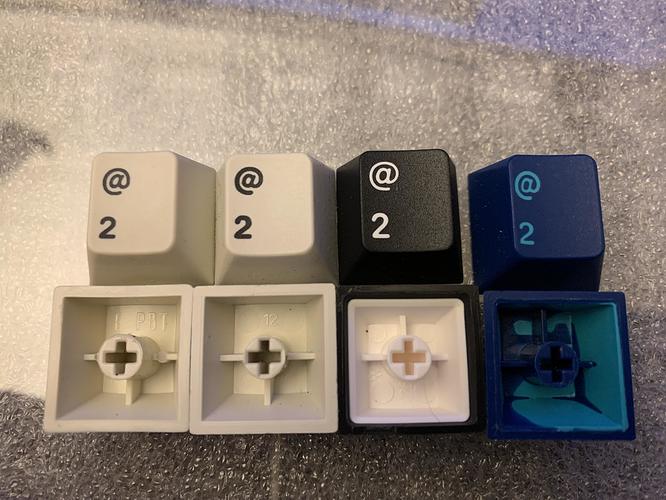 Rims weren't as thick as others but doubleshot inset made up for it. Slightly higher pitched than ePBT. Seemed slightly lighter in weight too.
Conclusion: Not bad for the price.
PS: Package was pretty good. 3 stacked trays.
UPDATE1: I was able to wet sand using 6000 grit micro-mesh a few of these keycaps to feel as smooth as ePBT. And I replaced the problematic modifiers in the middle 3 rows with black Cherry POM keycaps.
UPDATE2: By wet sanding, I meant dipping micro-meshes with sponge middle in some water and sanding with that for ~5 seconds per switch.
It's funny you should ask about it's origin of manufacture. It shipped with a small card that is completely written in Chinese along with a larger English card.

I keep debating if I should buy these or wait for KAT Monochrome extras. I prefer the SA-style legends on KAT but the price for these KBDfans caps is really tempting…
Going to harvest it for a HG build…