Here's my first attempt at designing my ideal keyboard layout: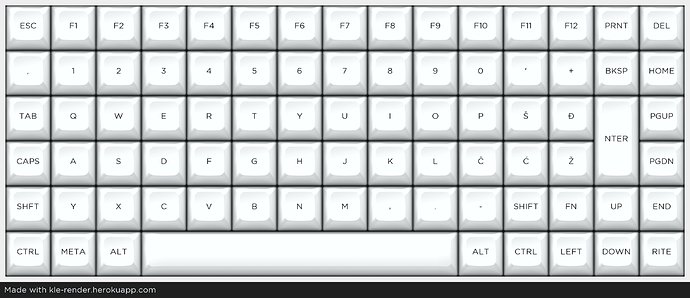 I would like an ortho layout, but would like to keep all the keys from a standard 75%.
a few notes:
I wanted it to be the same size as a regular 75% so I could use a KBD75 case or something similar… I ended up one column short, though… any suggestions for this are welcome
not sure about the 1u shift keys, i'd prefer them to be larger, but this is closer to a true ortho layout, and I suppose easier to find keycaps for
vertical enter - I'm an ISO user so I went for something similar to an ISO enter. could probably also be a horizontal 2u key and put the "Ž" (or what have you) above it … perhaps an universal plate to support both versions might be possible?
I've tried a split keyboard variant as well, but I need my language's extra alpha keys on the right, and an uneven split would really bother me …
Opinions? Comments?