Hi,
I'm on my way designing a new keyboard, I wonder if there is anyways to make top-mount softer (errm… add some flex to it)
if you ask me "why don't you try gasket mount?", I did try it and failed, well… not a "miserable" failure, the board still works, though. The person who assembled the board told me "if you're constrained by design and CNC-capability, why don't you use a easier design, a top-mount is good too", I think that's true, I'm not a good designer.
now back to the top-mount board, here is my keyboard's layout:


(just the basic layout, there are more options)
This is the plate, there are two styles: (difference in mounting tabs's cuts)
if I use PC/POM materials for the plate, the mounting tabs should not break/snap, right?


which style should I use?
Also, should I add spacers at the mounting posts?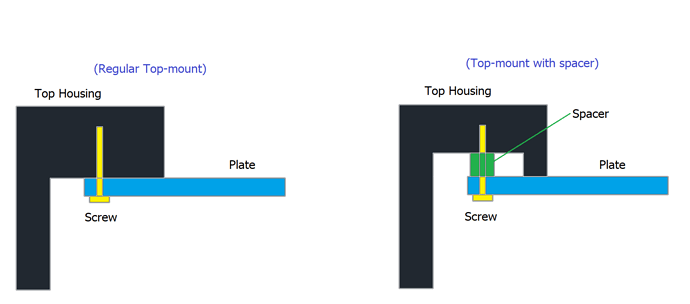 the spacer could be copper column or rubber ring.
please tell me what you think.