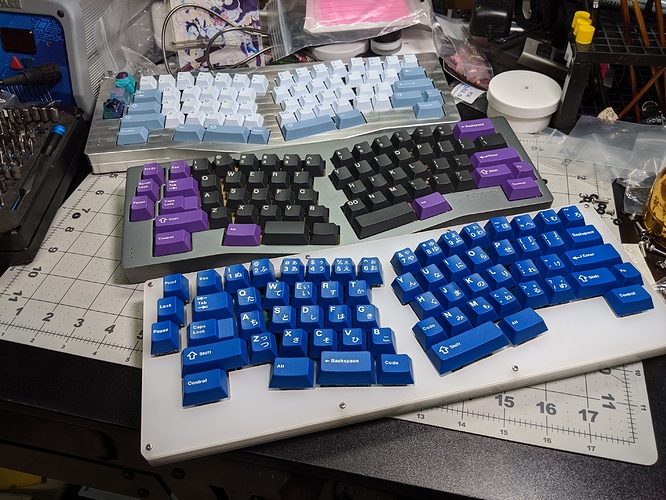 My OSA, Alice, and Lubrigante

OSA:
Switches: Purple Yok switches; lubed with 3204 on the base and GPL 206 G00 on the stem and 63.5g springs
Plate: aluminum
Keycaps: GMK Shoko
Other Notes: the alu is raw. Still planning on having it anodized locally. Designed by Blindassassin111 and jrhoutx. VIA compatible PCB by @Blindassassin111 . Brass weight on the bottom.
TGR Alice:
Switches: Holy Pandas lubed with VPF 1514
Plate: brass
Keycaps: GMK Q:01
Other Notes: the OG; Designed by Yuktsi
Lubrigante:
Switches: Gateron Black Inks lubed with 3204 on the base and 3203 on the stems
Plate: POM Half Plate
Keycaps: GMK Striker
Other Notes: designed by @Zambumon. Cut by thebeephaha. The rest of this case is acrylic. Uses a TGR Alice PCB.
Yup I really love this layout. How about you?