Hey there, I'm completely new to the Topre world, so forgive my ignorance, but are these stock domes?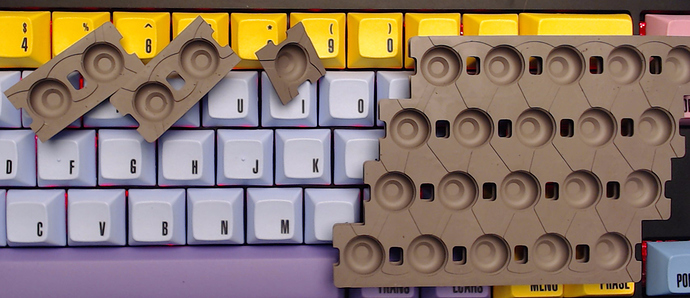 I attended the NorCal meetup in Nov, and it was the first time I tried Topre. Someone had a norbatouch with bke heavies in it, and I loved them. I have been diving deep into the keebs, and decided I needed those in my life sometime. I caught a post someone made on /r/mm and scored a FC980C https://www.reddit.com/r/mechmarket/comments/aer43r/usca_h_modded_fc980ctype_heaven_artisans_w_paypal/
The /r/mm post says it has BKE lights, and I ordered and replaced what was there with BKE heavies already, but the pictured domes are what came off of it. As far as I can tell, these are stock Topre, not BKE lights… can I get a sanity check from someone else who knows better than me?
On a side note, lubing the sliders (they weren't lubed as far as I can tell, just the spacebar stabilizer with something that had dried out, so likely not krytox) and installing the domes was super time consuming. I also removed the silence-x rings and put in the BKE housing sticker type. I once rebuilt a dell at101w I found at work, tuning the leafs individually, and lubing the switches with a brush and 3204, and that's the only keyboard project I've had to date be as time consuming. This Topre modding thing is seriously time consuming business.