Timestamp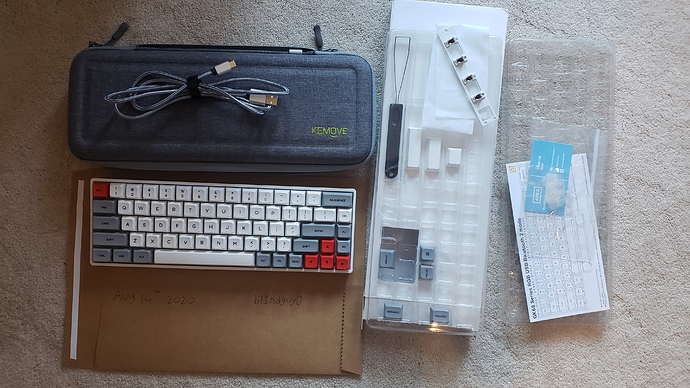 Album: (PM me for link)
PM me if you want a link to the sound test with 67g Aqua Zilents (lubed with Krytox 205g0 and Deskeys filmed) (the camera is very close to the keyboard, so sound might be exaggerated, but this keyboard is actually extremely quiet)
Hey everyone,
Selling this keyboard build in a bundle. This bundle does not come with switches so it is perfect for anyone who wants to implement their specific switches since this is a hot swap PCB (and RGB). I've literally had this keyboard for only a week, so only been used for a week.
This is a wired, white plastic case version of the GK68XS from Epomaker. I added Sorbothane Acoustic & Vibration Damping Film 50 Duro (0.188 x 6 x 12in) into the case of the keyboard; makes the sound very low pitch and quiet. Put some 70 Duro Sorbothane in the space-bar too. Also Band-Aid modded (and lubed the band-aids with Krytox 205g0) and clipped the legs of the stabilizers. The plate mounted stabilizers came factory lubed but the lube job ain't bad at all, so kept it in. The Key-caps are XDA profile. This bundle also come with the extra key-caps that came with the keyboard, a key-cap puller, the space-bar module (which allows you to have 2 programmable buttons at the space-bar), 110 TX Polycarbonate films (1.5mm Thickness, clear color), and a keyboard carrying case to protect the keyboard (which fits the included USB Type-C cable). The Keyboard with switches and caps weigh at 814 grams, however, switches not included in bundle.
Asking price does not include shipping cost.
Asking for $250 CAD (or USD equivalent).
Please let me know if you have any questions!