Hello, I am new to the custom keyboard community.
A week ago, I decided to make my own keyboard from raw materials (custom plate, hand wiring, etc).
So, I designed the front aluminium plate on Illustrator based on the model Preonic GRID from https://www.laserboost.com/plates-preonic
Since I modified it to fit my needs, I am concerned about a few things. My questions are:
Are the dimensions are correct for Cherry MX switches? (14mm switches holes, 5mm spacing, etc).

Are the 6 crew holes well positioned? Since I will not use a pre-made PCB, I am affraid that screws in the middle of the layout (like on the Preonic GRID) would make the hand wiring more difficult. I would like the bezels to be similar to this https://i.imgur.com/4MkIqGM.jpg

Are the screw holes the right size? Which screws should I be using (I would like the srews to go though the 3 plates - front plate, wood, back plate). If you got a better solution, tell me.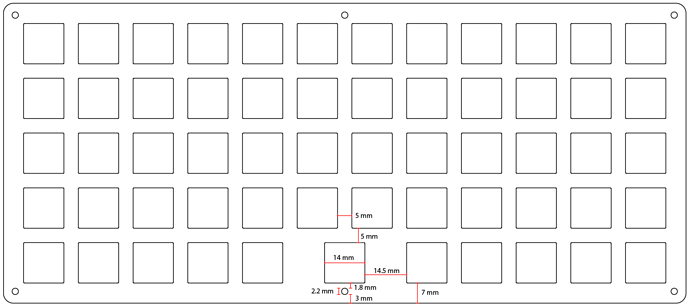 I am looking forward getting help on it. Thank you.