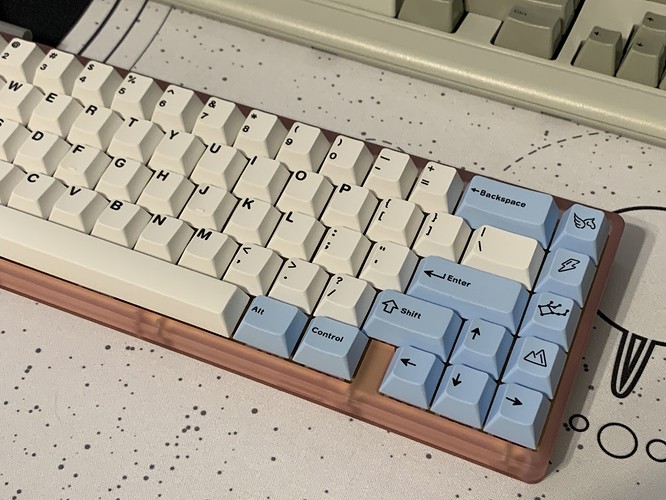 I've had these caps since they first shipped from Drop. This is a tiny review to talk about how I like them. I bought both the Mythos Pegaso set and the Mitocorn set.
Pros:
Texture - Silky smooth. Very similar to the texture of KAT sets. Smoother than ePBT for sure
Weight - To me they feel and sound more dense than ePBT
Thickness - Perfectly thick with a nice thocky sound on my boards.
Coverage - Modern accomodations are there like Stepped caps, splitt shift and function in the base ket.
Legends - Crisp, thick dye sublimation
Fit - proper fit on switches. Neither too tight nor too loose.
Cons:
Tan/gold accent caps have some bleeding on the sublimation.
The Mitocorn kit has an incorrect stepped caps. Doesn't alight flush on the left edge. The Pegaso set doesn't have the issue though.
I have had Exfoliative keratolysis for decades now. It causes my fingers to peel constantly in the dry months. Sometimes they peel so much that they bleed. It's pretty bad in the winter. I usually use ePBT sets on my boards, but when my fingers get too messed up, I can now swap over to these DCP caps. The smooth texture is a nice relief for my fingers.
I hope we'll see more sets in this material/finish. Hopefully something classic like beige or gray.