So, I've been thinking, after poking through the Polia thread and seeing a couple comments about falling off a cliff, which made me start to think. A switch with a clean tactile breakaway and a cushy landing would be interesting and possibly nice.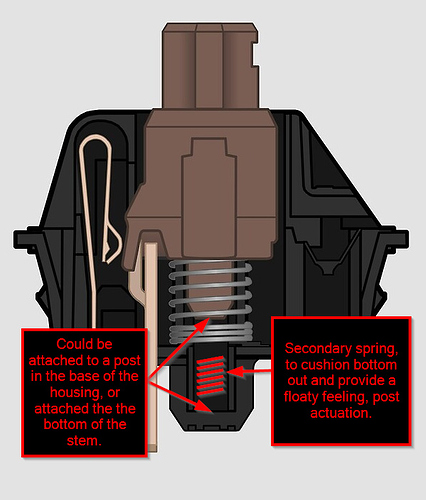 Notes / Thoughts:
The landing spring would need to be out of contact with with either the stem guide rod, or the bottom of the stem guide rod channel, until the tactile bump is passed and the switch has activated.
Lube or a dampening pad, could be placed at the opposite end of the landing spring, to prevent noise.
A narrow rod could protrude from the stem guide rod, to maintain spring alignment. Alternatively, a narrow stem could protrude from the bottom of the Guide rod channel, that could line up with a hole in the bottom of the stem guide rod.