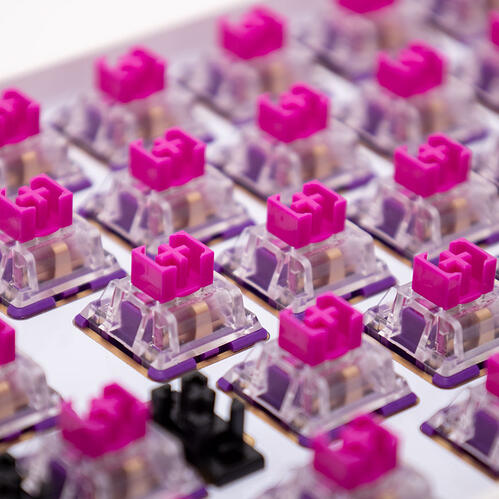 Hey all, Nigel from https://flashquark.com here!
I am excited to announce the release of our Quark switches. This is one of my favorite switches ever. I am obviously biased, but I personally designed this switch based on what I felt were the most desired characteristics in a linear switch by the mechanical keyboard community. I am using the switch in my keyboard right now to type this out and they feel heavenly.
A rundown of the basics:
It's a linear switch that comes in 62g or 68g spring weights.
The springs are our very own Flashquark two-stage extension springs which provide a firm, consistent feel during the downpress. There are no discernable spring-ping or crunch sounds either.
Switch leaves have been pre-lubed with just the right amount of lube so that they glide like butter without gunking up any other parts of the switch.
A combination of a polycarbonate top housing and nylon bottom housing contributes to the smooth keypress as well as creates an ideal sound profile.
The switch stem is a "box-like" stem made of POM for self-lubrication.
Some people are inclined to inclined to lube the pole of the switch stem as well as add additional lubrication to the sliders but I really think that you'll find its not necessary for Quark switches.
On a random note, as someone mentioned on Reddit, it shouldn't be called "box" because it implies that it was designed according to Kailh Box specifications. Do we have a word in the community to describe this kind of stem then? It is not accurate to call them "dustproof," because that is not the intention of the design; It's meant to prevent wobble.
Come check it out for yourself here: https://flashquark.com/product/flashquark-quark-switch-for-mechanical-keyboards/
Singles are available for purchase, so you can get just a few to test out before going all in. However, I don't think you'll be disappointed.
In addition, if you do happen to place an order on our site, leave a note for us during checkout asking for a tester Quark switch (indicate 62g or 68g) and we'll throw one into your order for free.