French Mechanical Keyboards Annual Meetup #6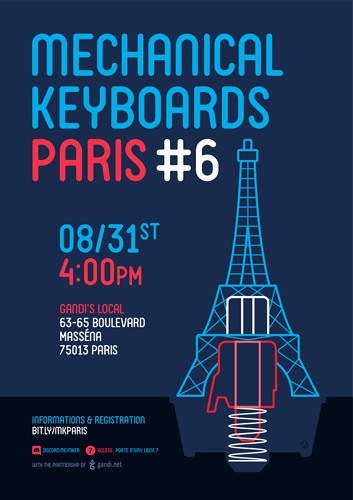 The French Mechanical Keyboard community is very proud to announce the 6th edition of the French Mechanical Keyboards Meetup that will take place on the 31st of August in Paris.
---
Details
Price: FREE
Date: August 31st, 2019
Time: from 4:00 pm to midnight
Location: Gandi offices in Paris, 63-65 boulevard Masséna, 75013 Paris - M7 Porte d'Ivry/T3a Porte d'Ivry
---
During this event, keyboard enthusiasts from all regions of France will gather to show and discuss everything mechanical keyboards. For those who can't be there, we thought about you — the event will be cast via livestream.
Whether you are an experienced community member or a newcomer, the meetup is a fantastic place to learn, exchange and see mechanical keyboards new and old.
Community vendors and makers will be present and activities will take place during the meetup such as giveaways, a typerace tournament and more !
Sponsors so far:
Mykeyboard
Candykeys
Novelkeys
GMK
Rama
LaserBoost & Keyboardplates
Qlavier
Brocaps
---
Please RSVP here to secure your spot (ID required on entry)
For up to date and real time discussion please join us on the French Mechanical Keyboards Discord.