The Group Buy is Live!! keyboardarcade.xyz
DSS Drank is a 40% keyset that supports most staggered 40% keyboard layouts, as well as Planck/Ortho. The set uses stock purple colors from Signature Plastics.
The Group Buy runs March 15th - April 11th
All in one kit: $100
Color codes: RCJ, RDA
Doubleshot ABS in DSS profile (1-2-3-4-3 sculpt)
Manufactured by Signature Plastics
Shipping rates to US, Canada and International
MoQ: 100
Estimated manufacturing time is 10 weeks after order placed with SP
Estimated Shipping: Late June/early July
Icons by TrashMan
Renders by MisonoWorks u/autumnisacutie
Join the discussion on the 40% Discord
More details to come…stay tuned
UPDATE: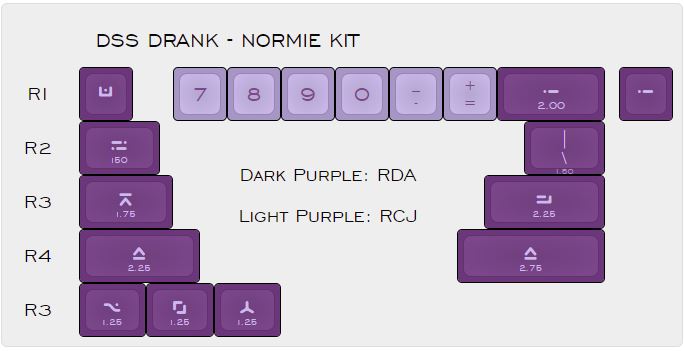 Introducing 60% layout coverage with the DSS Drank Normie Add-on Kit . This add-on kit must be paired with the DSS Drank Keyset base kit to provide basic 60% layout coverage . If you have already purchased the base kit and want to add this to your order, please send a message to the store email at 40percentkeyboards@gmail.com with your order number to receive a code for free shipping on the Normie Kit.