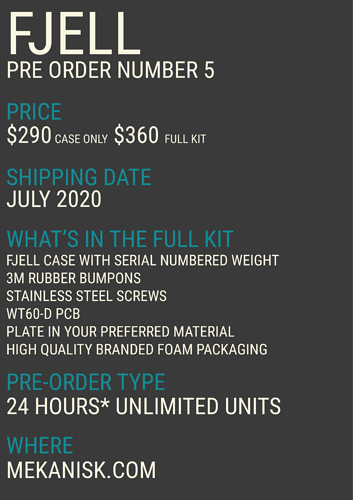 Picture by /u/Kawamash
Shipping
We are trying to have a reasonable shipping cost for all our buyers, and will end up eating a bit of the cost to keep it as low as possible. Please keep in mind that this is a heavy product and will still cost a decent amount to ship around the world.
Updates in R5
New sandblasting methods for a finer finish
Better color consistency
New color (red)
Limited edition available
Updates in R4
You will be able to completely remove the spacebar and middle mounting points. This is to ensure compability with hotswap PCBs, and for those that prefer a more flexible typing experience. The inserts will be made in brass.
Other updates:
slight mounting changes
slight USB hole changes
---
FAQ
What is this case?
It is a tray mount case for 60 percent mechanical keyboards that follow the standarized Poker mounting. It has a weight of 2kg, or approx. 4.4 lbs.
When will it be available?
The pre order will start within a few weeks/days, depending on some final details from the factory regarding the Limited Edition Fjell.
What is the Limited Edition Fjell?
This Fjell will have a different material weight, and different engravings. We are doing this limited to test it out for use in further product development.
Will foam be available?
Yes, for $9, we will include 2x 2mm layers of medium-high density EVA foam.
Why are you running this now?
Please read this: March #2 - Fjell R5? – Mekanisk Keyboards
Read complete blog post with FAQ
It will be available on this following link:
https://mekanisk.co/collections/fjell
Any questions? Please let me know.