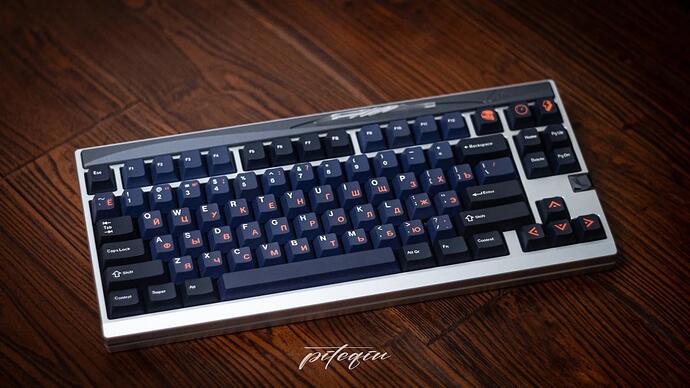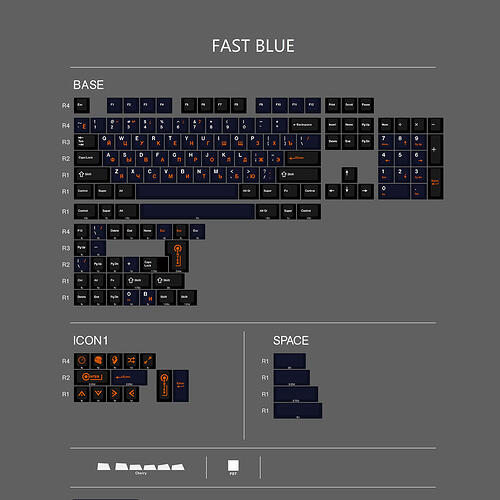 Greetings all,
We are trilled to announce that the Fast Blue Keycaps GB is live now! With its unique and personalized keycap design, unique color matching, we believe that it will impress you. Please feel free to check more details down below!
Inspiration
Unlike many sublimation keycaps that focus on novelty keycaps, Fast Blue seems to focus more on color. A few simple novelty keycaps are enough to embellish the entire keyboard.
The Fast Blue keycap set takes its color inspiration from the KTM motorcycle series, utilizing a blue and orange color scheme that exudes a strong sense of athleticism.
As the main colors, light gray blue and dark blue hue convey a sense of stability and confidence, while the energizing orange tones symbolize vitality and passion. This dynamic combination of blue and orange creates a sporty theme that turns your keyboard into a stage of speed and vigor.
With Fast Blue keycaps set, typing becomes a thrilling experience that fuels your sense of adventure!
Specifications
Profile: Cherry

Thickness: 1.5mm

Quantity: 157 keys in a full set

Material: High content PBT semi-shading material

Process: Full five-sided heat sublimation
Support
Adaptation 

TTC switches

KTT switches

JWK switches

Kailh Box switches

Cherry MX cross switches

Gateron switches(G switches)

Do not support split backspace

Other types of customized switches

Logitech Omron switches and static capacitor switches are not applicable

Keyboards of Logitech, Corsair, Razer, and RGB lamp beads may not be applicable.
Matching Layout 

ISO

Alice

WKL

MX HHKB

Stepped caps lock

980 full size

660 75% 80% 96

60%, 65% (including 1,75U shift)
GB Info
GB Time: September 7th-28th 2023
Price: 55$Sale Format: 130 sets only
Estimated Delivery Time: Ships in 15 days after GB ends
Reviews
Captain.sterling
Please stay tuned!
Regional Vendor
US: KeebsForAll
EU: Keygem
JP: YUSHAKOBO
AU: CLS TECH
UK: Mechboards
Rest of the world: Velocifire
If you are interested in this keycap and want to know the latest update of it, then please feel free to join our Official Discord and follow our Instagram !