Still a chance to join this?
Extras will be available/sold once the groupbuy concludes!
Around what day may the extras be released?
(New to keycap gb's, I've been trying to learn/lurk for a week and a half now)
Perfect. Thank you for the information.
It's probably too early to have a ballpark date, but usually Novelkeys will wait to sell extras about a week after they are shipped to GB participiants. It's usually announced ahead of time on the novelkeys reddit updates, so keep an eyes there and maybe here (u/mgsickler is his reddit handle)
I'm on the lookout for extras as well
I have received the 2nd round of samples!
Let's get the pictures out of the way first. For reference, I included in the pictures the following keys:
F7 - GMK Muted Cyan Accent Kit
F8 - GMK Muted 9009 Accent Kit
Windows & Pipe key - GMK Muted Base Kit
The blue blank is the new sample that I have received, which I am very pleased with and think can lock in. Shown in the pictures are 2 pink blanks, the lighter and more muted pink being from the first round of samples and the more saturated pink blank being the newly received 2nd sample of the pink.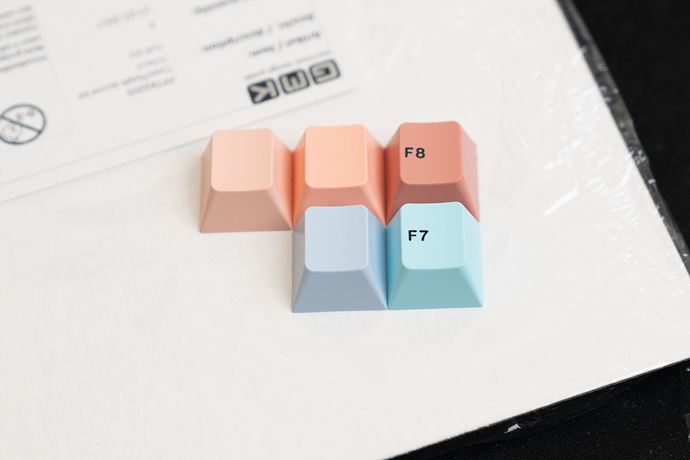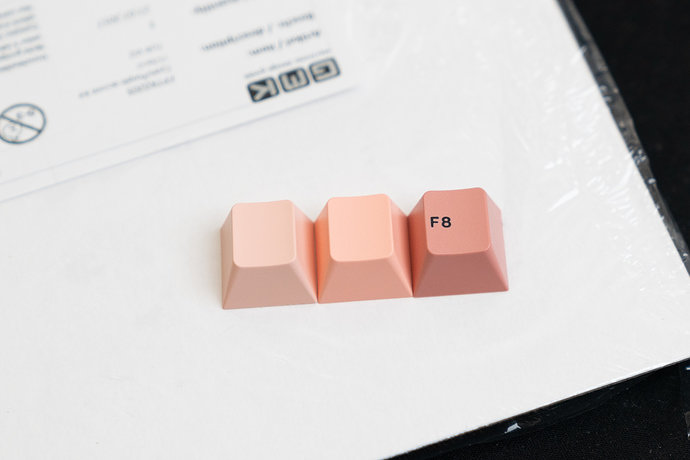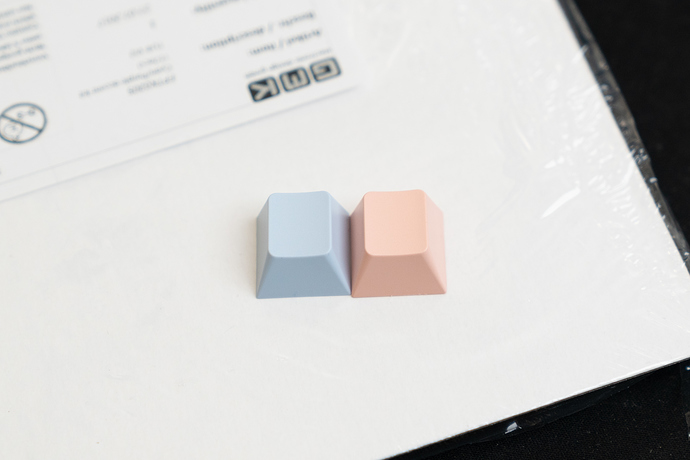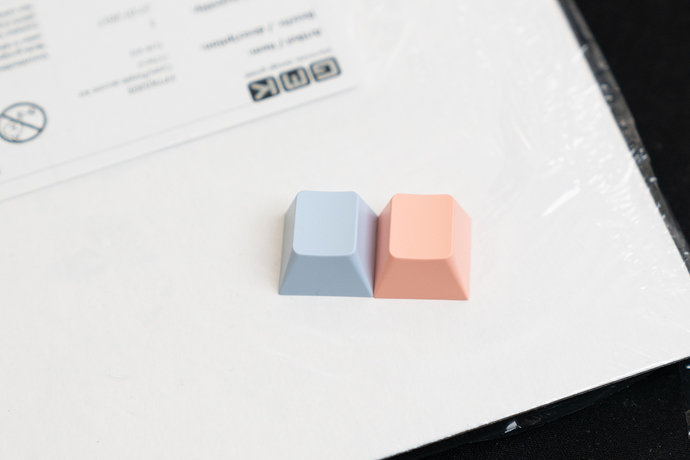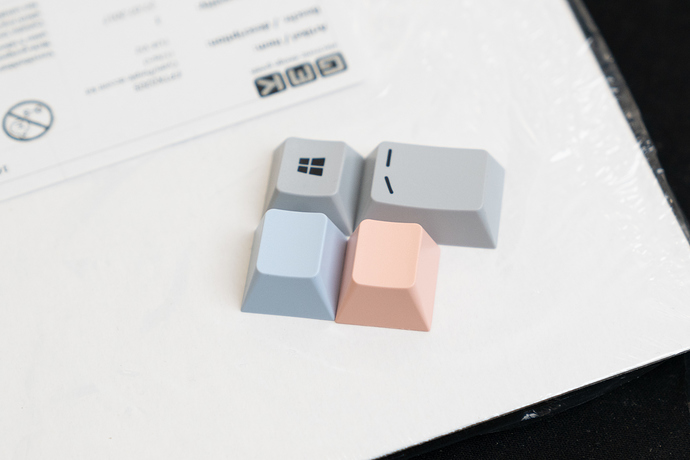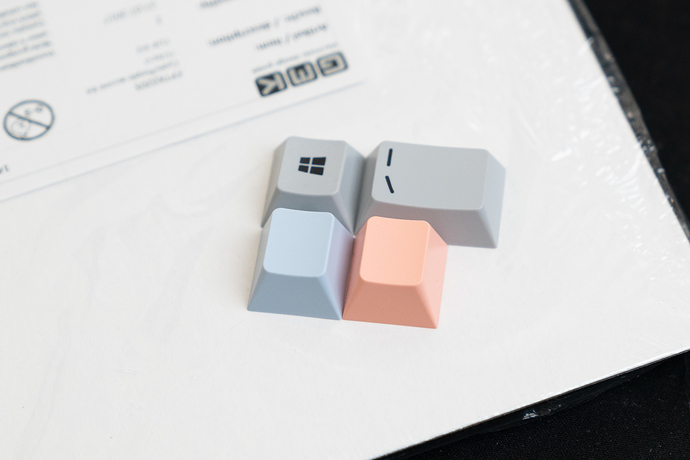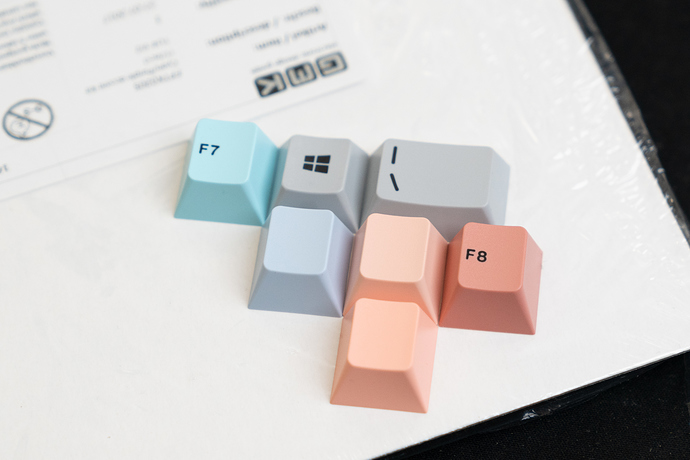 I am quite pleased with the new round of samples and think that moving to RAL as suggested by Oblotzky and Zambumon was a great choice. I now however face a dilemma as I think that both the new "punchier" pink as well as the original muted pink both work well not only with the new sample of the blue but also with GMK Muted as well. I would like to hear everyone's thoughts on which one they think works better (or if you guys think a 3rd round of color matching is necessary)!
I like the 1st round more muted pink
I like the 2nd round more saturated pink
I like neither go for a 3rd round of samples
I think the more saturated punk from the 2nd round suits the caps better
Man I should've joined this…
Actually kinda surprised by the results of the poll though, first round pic fits that blue a lot better than the more saturated pink IMO.
Gahh always forget haha, I'll try to grab a pic of it when I can, although the sweater was mostly for inspiration haha
There will be lots of extra available on Novelkeys once the gb concludes

Ohhh, I hope mykeyboard.eu will have some, otherwise shipping is gon be expensive haha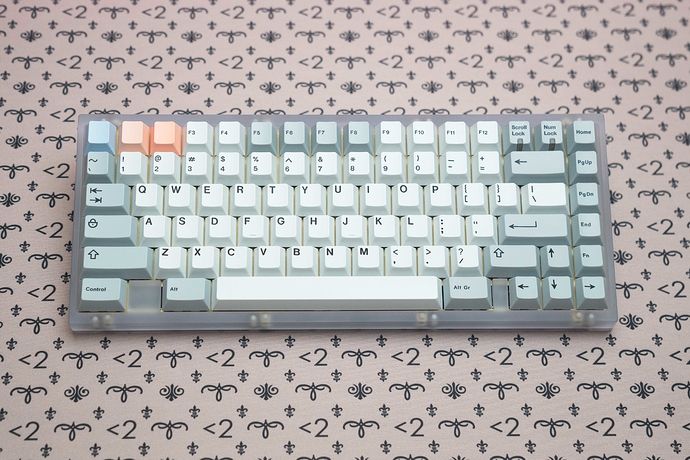 Building larkcarps' First Custom! - YouTube (Timestamped from when I put the keycaps on and talk about them)
After much deliberation and gathering feedback from all you guys, I have decided to move forward with the original, more muted pink (the one immediately next to the blue)! In person, I believe that it fits better with the blue and the overall theme of GMK Muted as the newer pink is too vibrant. We have let GMK know and are waiting to hear back on the new estimates for dates, as they took quite a while to get these second round of samples out to us so the original dates may no longer be accurate. We will keep you posted once we hear back from GMK!
I am really happy you went with the more muted pink, looks A LOT better than the more saturated IMO.
After a much awaited response from GMK, they have finally accepted our payment for the keycaps! Expected delivery is June!!
GMK either worked really fast or trolled us…
We have been told that production has already finished and that they've been already shipped out. Assuming no delays with customs, NovelKeys expects to receive the kits by late next week so hopefully we should see US customers starting to receive their kits in about 2 weeks time (probably earlier for international buyers)!!!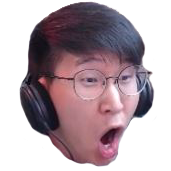 Has anyone received their kit yet?
Mine was delivered almost one month ago, April 26th in Tennessee
I am still waiting for mine from zfrontier