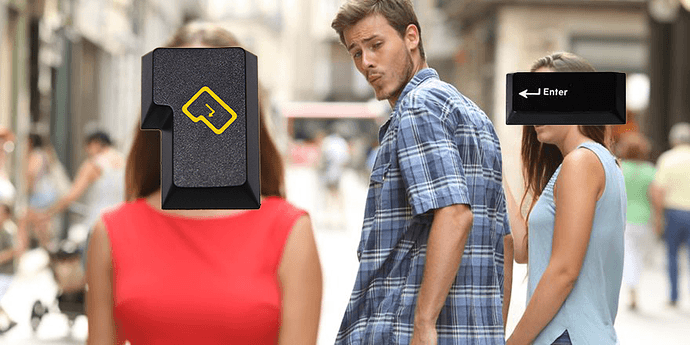 It's been a long time in the making (some would say too long but… you know…
kwerdelay
) but we finally got our s*** together and are now ready to offer you the coveted peak ISO meme:
the The International Kit logo enter

Manufactured by GMK in their trusted double-shot, high quality ABS process this key is not only a sight to behold, it's also nice to hold in your hands (hehehe). The colors are default GMK colors CR and CV, so this key will fit beautifully with your set of GMK White-on-Black for instance. And all you have to do to get yours is fork over 9€ which already includes untracked shipping (to keep the costs down) and PayPal fees! Thankfully the lovely folks over at Mykeyboard.eu agreed to help us out with the logistics of this buy, so we don't have to do all that work ourselves. (wew!)
Since we don't have an endless supply of these (yet), we're limiting this buy to 150 units and one cap per person (if you want to buy like 50 in one go, talk to us though

). Form will be opened this Friday, the 01.11.2019 12:00 CET have opened at https://www.the-international-kit.com/enterkeycapsale and stay open until 29.11.2019 23:59 CET. Invoicing will happen the following days after closing and you'll have 48h to pay. After that we ship the keys over to Mykeyboard.eu and they'll sort out the shipping to you. Should we reach the 150 limit before the end date, the GB will close early. So don't wait with your order until it's too late!
Looking forward to finally see these go out in your hands and on your boards!
Your friends from The International Kit
TL;DR
GMK The International Kit ISO enter
Colors: CR, CV
Price: 9€ including shipping (untracked) and PayPal fees
GIVE IT TO ME, NOW!