Hi all, good day with good news! The Zonex 75 GB is finally here!
Let's hit summer with IQUNIX Super ZONEX 75 Gasket Custom Keyboard Kit!


Product Link (Global Vendors & Content Creators can be found here)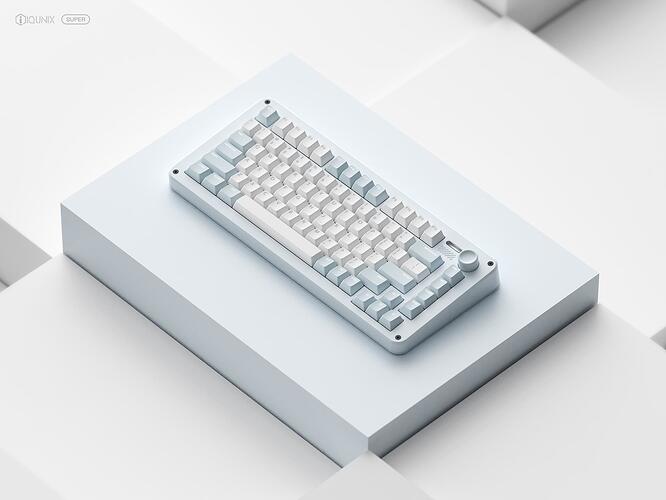 Price: from $239
Time:
-GB Date: Jul 15th ~ Aug 15th, 2023
-Production Time: September - October 2023
(The first batch of GB orders for the Chinese market on the IQUNIX App will be sent out on July 17)
-Estimated Shipping Date: October 2023
PCB:
Tri-mode Hotswap ANSI PCB with RGB
Tri-mode Hotswap ISO PCB with RGB
Wired Hotswap PCB (QMK)
Wired Soldered PCB (QMK)
Plate: Aluminum, PC, POM, Brass, and FR4 Plate.
Foam: Poron Foam, IXPE Switch Pad, and Poron Case Foam.
PVD Weight (Alu): Silver, Dark Grey, Dark Chromatic.
Features:


Gasket Mount


CNC Aluminum


Screw in Stabilizer


Dimension: 346mm * 152mm * 17mm (front height)


Software: Wired (QMK) / Tri-Mode (IQUNIX firmware)
Highlight Features:
Easy to builds
Magnetic Feet

Flex and Thock​:heart_on_fire:
Tactile Media Knob
Tri-mode BT 5.1 / 2.4GHz / Wired
Every detail is related to the overall design: Sleek Version / Texture Version

Orders within the first three days will receive one aluminum keycap as a gift.
Thank you,
IQUNIX