8-Bit Series III: Neon Era Artisan Keycaps
This group buy will be closed on 6/14/2022 , and please remember that we don't rerun any group buy. 6 keycaps per order & all collections will be free shipping. Check out our fabulous gifts for this 8-bit series, sticker for every keycap and uncover resin spacebar for "all size" keycaps.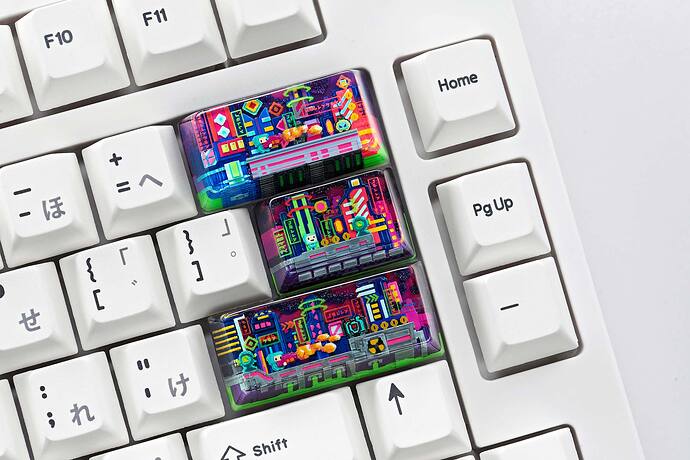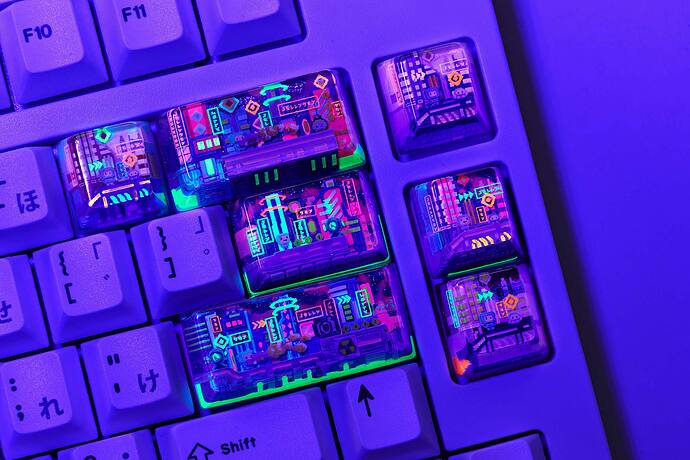 In the previous 8-bit series , we have learned how the super trio Mika, Louie, and Black saved the Pipeline City and brought justice back to this pixel world. The Pipeline City is growing exponentially, with a strong focus on robotics and machine learning development. The whole city now resembles a video game scene in the 50s. However, it comes with a futuristic setting.
Everything starts with a change
The government has decided to reform the city to "take the Pipeline City to the next level". They ask the scientists to create the most advanced robot generation with all the cutting-edge technology possible. The government will, in return, fund the research and support them financially to address any scientists' age-old desire: conquering new knowledge and discovering scientific breakthroughs. It is the classic relationship between the government and scientists.
They are looking for humanoid machines that can learn and execute human activities, which can help revolutionise the city and go beyond whatever human beings have ever achieved. But that's not all. The government has yearned for a top military system backed by robotic technology so that it can help them defeat other cities in this pixel world. One Pipeline City is never enough.
specs
MX stem
Profiles: OEM, Cherry, SA R3
Keycaps size: 11 sizes ( 1u / 1.25u ctrl,alt / 1,5u tab, \ / 1.75u caps lock / 2u / 2.25u Enter / 2.25u left shift / 2.75u right shift / 6.25u Spacebar/ 6.5u Spacebar / 7u Spacebar)
Design and Handcrafted by Jelly Key
shipping
1u / 1.25u ctrl,alt / 1,5u tab, \ / 1.75u caps lock / 2u / 2.25u Enter / 2.25u left shift / 2.75u right shift
$9 per keycaps if you buy one.
$12 for 2 keycaps.
$16 for 3 keycaps.
$20 for 4 keycaps.
$20 for 5 keycaps.
Free shipping for 6 keycaps or more.
6.25u, 6.5u, 7u spacebar
$12 per spacebar if you buy one.
$16 for 2 spacebar.
$20 for 3 spacebar.
Free shipping for 4 spacebars or more.
group-buy information
Open time: 6/8/2022
Close time: 6/14/2022
Starting to Deliver after Groupbuy close: early than 90 days
We could close the GB sooner than expected. So take your chance as soon as you can.
what is in the box?
1 8-bit series III artisan keycaps by Jelly Key.
01 Medal dog-tag with engraved unique series number.
1 random sticker.
01 Wooden box .
A unique serial number is on the bottom of the keycap as well.
sidenote
The keycap was made entirely by hand and tool. The final product may vary from the original photos but at acceptable aspect. We would love to ask you to tolerate any reasonable differents.
With each artisan keycap from Jelly Key, we offer you a one-on-one replacement if there is fault that causes by our artisan team. Feel free to contact us.