This group-buy will be closed on 8/4/2022 , and please remember that we don't rerun any group-buy. Six keycaps per order & all collections will be free shipping. And a deskpad will be shipped as a gift to all sets & orders for more than $600.
An idea to come
In every design, it is not just a keycap but it is an artwork. You are not hard to realize that we bring the masterpieces of mother nature or the creativity of human for you to enjoy sightseeing, recall happy memories, or take you to magical and mythical lands. As in the Coral Oases series, you can enjoy the eternal beauty of corals – a fascinating marine ecosystem in the deep ocean. Our team is extremely excited about this idea so we have developed 3 versions of the Coral series until now.
To come up with an idea is not easy but to turn that idea into a miniature piece of art like a keycap is also not that easy.
A making process that is revealed
The production starts from casting the base, then works on tiny details that are characters inside each keycap and finishes by making the cover.
The first step is always most important as it requires meticulousness and high precision to ensure the correct size of the keycap. Besides, to bring a strong base, we use a special type of resin so it has more time-consuming to dry. Especially, we cast the base with 2 layers to ensure a thick and solid foundation. This technique is a great way to minimize the risk that may cause the collapse of the keycap since all details are put together.
Moving to another significant and complicated process, we shape the liquid and some raw materials to form the corals and creatures around them. Our team works with extra care in this step: very careful and attentive. It ideally takes around 8-12 hours to deal with this process. In case there is any trouble when removing the patterns from shaping moulds, the time needed to get this step done is double or even triple as much as it is. After that, colouring is crucial to describe the realistic portrayal of beautiful coral reefs. The smaller size it is, the harder work that our artist faces. As for 1u keycaps, we cast seven resin colour layers and another layer multi colour for shadow and come up to 12 colour layers with a spacebar. Although it is hard to jump into details at the corners of this small stuff, we are confident that there is no mark of carelessness in our casting process.
Lastly, we put all of them together inside the keycap and cover them with a durable resin to bring a protective shield for this miniature beauty of nature.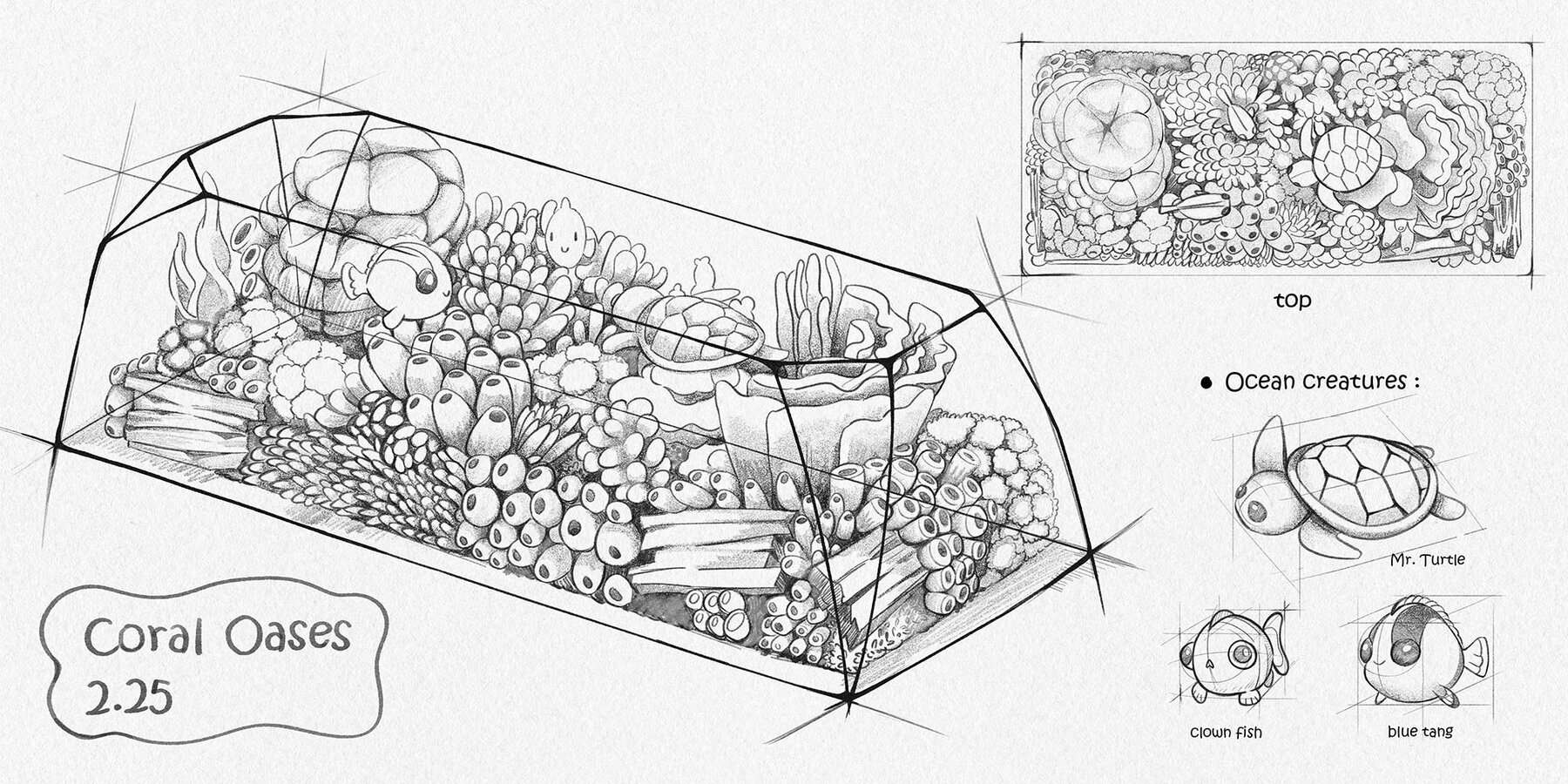 Honestly, we try to have less of a hassle in every step to race against time so that these keycaps are brought to your home on time.
A promise of quality
100% casting by hands with special ingredients that are carefully selected is proof of our effort to make high-quality keycaps. Though it takes a longer time for production, the result is always rewarding for both you and our team. As we certainly know, good things take time!
Have you owned this Coral Oases series? Do not miss out our works that always fulfil your passion for aesthetic value. It is not just a keycap, it is a work of art!
specs
MX stem
Profiles: SA, GEM, Naked
Keycaps size: 5 sizes ( 1u / 2.25u Enter / 6.25u Spacebar/ 6.5u Spacebar / 7u Spacebar)
Design and Handcrafted by Jelly Key
shipping
1u / 2.25u
$9 per keycap if you buy one.
$12 for 2 keycaps.
$16 for 3 keycaps.
$20 for 4 keycaps.
$20 for 5 keycaps.
Free shipping for 6 keycaps or more.
6.25u, 6.5u, 7u spacebar
$12 per spacebar if you buy one.
$16 for 2 spacebar.
$20 for 3 spacebar.
Free shipping for 4 spacebars or more.
group-buy information
Open time: 7/29/2022
Close time: 8/4/2022
Delivery time: 11/14/2022
We could close the GB sooner than expected. So take your chance as soon as you can.
what is in the box?
1 keycap by Jelly Key.
01 Medal dog tag with engraved unique series number.
01 Wooden box.
A unique serial number is on the bottom of the keycap as well.
sidenote
The keycap was made entirely by hand and tool. The final product may vary from the original photos but at an acceptable aspect. We would love to ask you to tolerate any reasonable differences.
With each artisan keycap from Jelly Key, we offer you a one-on-one replacement if there is a fault that causes by our artisan team. Feel free to contact us.