The Rehabilitation of Lost Cities artisan keycaps
During the High-tech War of the world is likely ending, a strange meteorite was in a head-on collision with Earth which everyone later knows as Phaethon Impact. After Giant-Impact, the world order was changed one more time…
This group-buy will closed at 6/5/2020 , and please remember that we don't run any group-buy again. 6 keycap per order & all collection will be free shipping.
SA row 3: 2u (backspace) – 2.25u (enter & left-shift) – 2.75u (right-shift) and cubic profile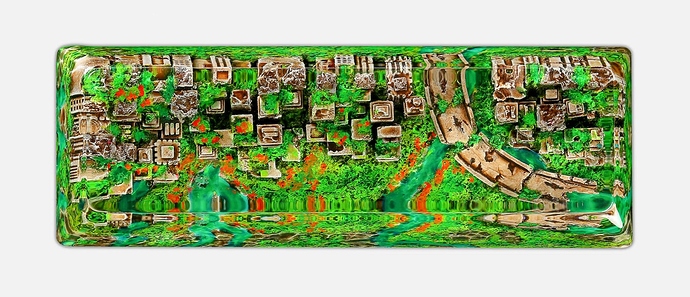 Indeed, Creative Realism – a miracle – what we would like to get into the whole Jellykey keycap. Now, let us tell you how we got this miracle in the rehabilitation of Lost Cities.
The ruins of buildings that have size 1-2 mm have been poured into the molds. After becoming solidified within 8 hours in pressure pots, the castings are detached from their molds to move the design details step. In this step, the artisans will place these details on the sole of each size according to a sketch designed beforehand. It will take about 30 – 45 minutes to complete.
For "Lost Cities II", three size key-cap correspond to three layers, each layer has 4 distinctive landscapes. The color-ways are covered meticulously by nature effects in which the 4 main color-ways: bright orange – lava, blue ice-ocean, green – forest and chaotic color – toxic that are their own unique, especially we make sure a special effect – Red Dragon effect which was hidden inside the ruins, will get you a new impression. For that reason, the artisans take around 5 to 8 hours to complete every single key-cap.
Such details as highway bridges, grasses, falling buildings,…There are a key point of this step to bring a realistic art for each key-cap in Lost Cities, despite it doesn't require time than other steps.
Next, the final profile layers of keycaps have been cast into the molds with different sizes and put in paint pressure pots to be dryness within 14 hours. When the casting of key-caps has enough time to get hard perfectly, we will move the sanding-seeking step within 3 times to sand by hand and the last 2 times for seeking by polisher motor, to get an ultra-smooth surface on each key-cap.
To ensure our whole key-caps will be in your hand is the most perfect design, any items have error while checking details or are on the keyboard, we will have to remake – from the zero points.
Finally, the artisans will clean the outer surface key-cap before having been tagged own serial number and put into the craved wooden boxes with our logo to deliver to you.
We're ready to race to explore for "The rehabilitation of Lost Cities" together with you! How about you, my pal?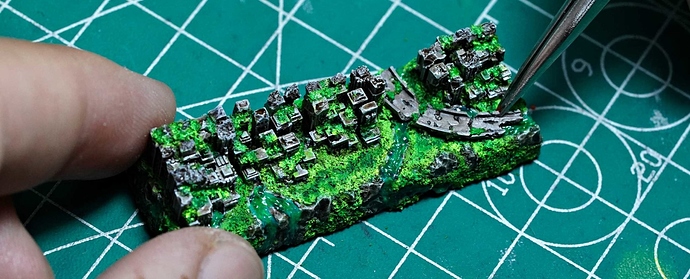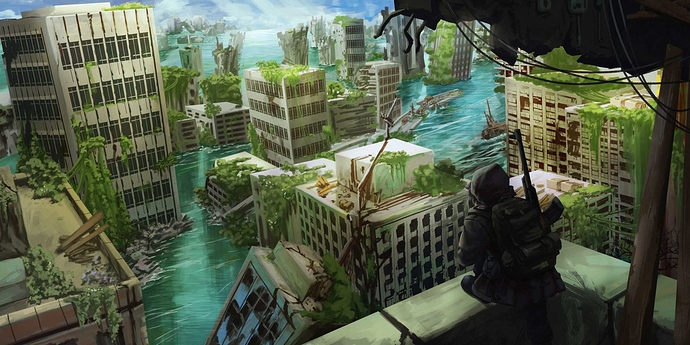 specs
MX stem
Design and Handcrafted by Jelly Key
group-buy information
Open time: 5/29/2020
Close time: 6/5/2020
Starting to Deliver after Groupbuy: 70-90 days
We could close the GB sooner than expected. So take your chance as soon as you can.
what is in the box?
1 The Rehabilitation of Lost Cities artisan keycaps by Jelly Key.
01 Medal dog-tag with engraved unique series number.
01 Wooden box.
A unique serial number is on the bottom of the keycap as well.
sidenote
The keycap was made entirely by hand and tool. The final product may vary from the original photos but at acceptable aspect. We would love to ask you to tolerate any reasonable differents.
With each artisan keycap from Jelly Key, we offer you a one-on-one replacement if there is fault that causes by our artisan team. Feel free to contact us.