KAT Napoleonic
Inspired by early 19th century history. Optimized for affordable language compatibility.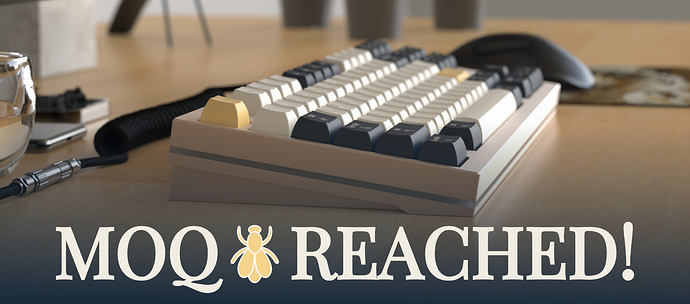 Background
On the Ninth of November, 1799, a coup d'etat overthrew the French Directorate and replaced it with a new government: a Consulate to be led by General Napoleon Bonaparte. Just a few short years later, he would be crowned Emperor. To say his rise to power ruffled a few feathers across Europe would be a gross understatement. While he is credited with bringing about positive reforms to the legal and governmental systems of France, his legacy is one tainted by costly, bloody wars across the continent.
Those early decades of the nineteenth century, from Napoleon's rise to his death, roughly mark the Napoleonic Period, an era that left indelible marks upon the face of Europe and the world. KAT Napoleonic is a keycap set in the KAT profile that explores the history and artistic depictions of the Napoleonic Period.
Core Features
Neoclassical Typeface
Multilingual & AltGr Sublegends
Wide Affordable Localization (21+ Language options in base alpha kits)
Mods in Three Themed Colorways: French Indigo, Russian Green, & Austrian White
Alternative "British Navy" mods for affordable TKL support
Multiple Peripherals including custom deskmats, USB Cables, & Coffee Mugs
Delivery Estimate
Keyreative's official estimate for any KAT GB is 28 weeks, but they have a big backlog. I'm guessing October 2021.
MOQ Reached: All kits will be made!
As of November 30th, we have so far sold over 55,000u of KAT Napoleonic keys, meaning that the minimum order quantity (MOQ) of 54k units has been reached! All keycap kits will be made, and remaining MOQs for USB cables and deskmats are very likely to be hit
The last day of this Group Buy is December 9th, so there are approximately 8 days left to preorder this custom keycap set.
Vendors
Coffee Mugs & Neck Gaiters
Keeb Nerd is selling official Napoleonic coffee mugs and neck gaiters along with apparel matching other popular sets. Visit my Discord to find a discount code.
Links
Albums
Prices
Preorders are Live NOW until December 9th!
Official Homepage: https://katnapoleonic.com/kat-napoleonic/