Hello !
I recently opened a GB of marble wrist rests shaped by a local artisan in Taiwan. Those are natural marble pieces in White, Green and Black.
All the information :
Size : 30cm long x 8cm large x 1.6cm thick
11.8inch x 3.15 inch x 0.63 inch
Perfect size for 60% keyboards.

Weight: 1.1 Kg

Shape: Flat surface with 2 rounded angles and light chamfer on all edges. (the surface is not angled)
The bottom surface is not polished and adhesive plastic feet are provided to stick on it.

Color: White / Black / Green

Price: $65USD + shipping (USA $30, Europe $25, Asia around $20)
If you order several (any color), you pay only the shipping for one.
Shipping will be done by DHL or SF Express (Asia), eventually others if countries are not well deserved.

Shipping date: Will be shipped in November.

Payment: I will send you a Paypal invoice asap and please, fulfill it within 72hours. Please, keep an eye on your emails !
This GB is on a first come first served basis but quantities are large this time.
GB subscription forms (one for each color):
Black Color :

White Color :

Green Color :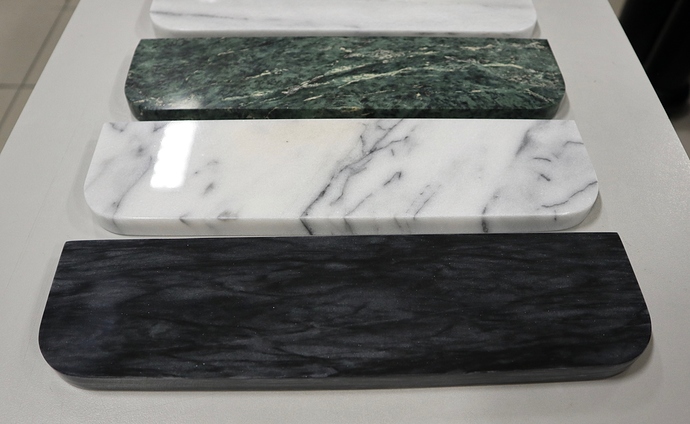 There will also be a fourth color "Coral Pink" available in collaboration with the GMK Coral keycaps set !
Thank you for your support !! Questions and comments are welcome !