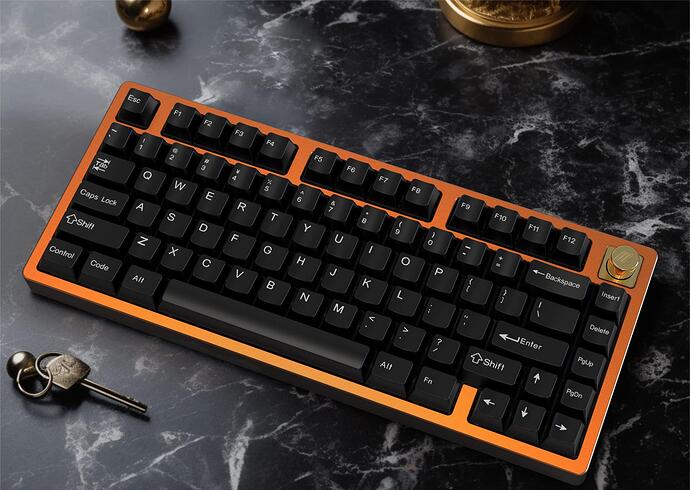 Hello everyone,
First and foremost, as MKC's inaugural independent project, we'd like to express our gratitude for the tremendous support. We aim to give all our customers an even more excellent thank you. We are thrilled to announce that due to the sales meeting our expectations, our team has decided to include an additional bonus for this presale - the MKC Stabilizer Set. With just one week remaining until the PRE-ORDER end, don't miss out on this fantastic pre-order purchase and Bonus.
MKC75 Pre-order Information
Pre-order Bonus for all MKC75 Keyboard: Carry Case & MKC Stabilizer Set
Pre-order Time:
From August 5th to August 31st.
Estimated Delivery:
Start packing and sending to vendors and Mykeyclub direct customers around November based on the final order QTY.
Vendor List
US: KeebsForAll 7 PM PDT 4th August
US: Cannonkeys 10 PM ET 4th August
Canada: Ashkeebs TBD
UK: Prototypist TBD
Germany: Candykeys TBD
Spain: ELOQUENTCLICKS 10 AM (GMT+1) 5th August
Italy: Coffeekeys 12 AM (GMT+2) 5th August
AU: SwitchKeys TBD
South Korea: Geonworks TBD
Singapore: Mecha.Store 10 AM (GMT+8) 5th August
Japan: Basekeys 5 PM (GMT+9) 5th August
Vietnam: MOKB STORE 8 PM (GMT+7) 5th August
Philippines: Zion Studios 8 PM (GMT+8) 5th August
Malaysia:Rebult Keyboards 8 PM (GMT+8) 5th August
Indonesia: KeebsMark 21:00 PM WIB (GMT+7) 5th August
Thailand: NTCH Keys TBD
Bangladesh: KeyB TBD
Argentina: LATAMKEYS TBD
Colombia: Stiutech 9:00 PM (GMT-5) 4th August
Taiwan: 鍵盤好貴 TBD
International: Mykeyclub 10 AM (GMT+8) 5th August
MKC75 Information
Features

Supports Caps Lock Indicator Light
100% processed using CNC machining with 6063 aluminum case
Compact 75% layout
Three-in-one structural design( Top Mount, Plate Gasket Mount, and PCB Gasket Mount )
Supports tri-mode PCB(Wired, Bluetooth and 2.4ghz)
Supports Plate, Half Plate, and Plateless Build
Supports Rotary Knobs components and Light Signs, wired versions are also compatible with JRIS75 wired Rotary Knob, Badge, and LED Light Sign.
Supports Alu Internal Weight
Multiple configurations available
2 x 2200mha large battery capacity
​
MKC75 Specifications

Typing angle: 7°
Front height: 18.5 mm
Material: Full CNC 6063 aluminum
Dimension: 320*134.4*33mm
Three-in-one Structure: TOP Mount / Plate Gasket Mount / PCB Gasket Mount
QMK/VIA Supported(wired)
Support PCB stabilizers
Unbuilt Weight
With PVD WEIGHT: 1.693kg

With Alu WEIGHT: 1.425kg
With PVD WEIGHT: 1.86kg

With Alu WEIGHT: 1.592kg
Three-in-one Structure

We have adopted a three-in-one structural design for the internal structure, which can support regular positioning plate gaskets, PCB gaskets, and the long-disappeared TOP Mount structure. Thanks to the consistent frame of the compact 75% layout, we can make the three structures perfectly compatible.
​
What you can customize for MKC75?

Case Colors Options:
4 E-coat Case: E-white, Milky White, Pink, Lilac
6 Anodized Case: Orange, Black, Brown, Grey, Silver, Green
7 Color Combose Case: E-White&Black, Orange&Black, Grey&Black, Silver&Black, Wine Red&Black, Deep Blue&Black, Green&Black
Weight Options:
Designs:
Colors:
PCB Options:
Noted: The Tri-mode technical support is provided by IRISLab. Appreciate their support and help.
Plate Options:
Noted: We highly recommend using a PC/ POM/FR4 plate for Tri-mode PCB because the Brass and ALU plate will have a little affection for connectivity.
What's Included in MKC75?

Full CNC Aluminum Top case *1
Full CNC Aluminum Bottom case *1
Weight(Anodized Alu Weight or Stainless steel PVD Weight) *1
Internal Alu Weight (Only for the Tri-mode Version Case) *1
PCB *1
Plateless or Plate *1
IXPE Foam *1
Poron Case Foam *1
Poron Plate Foam *1
Type-C Daughterboard with JST Cable *1
PCB GAS Silicone Column *12
Plate GAS Silicone Sock *18
Top mount screw and spacer *12
PCB stabilizers o-ring *12
Footpad *6
Poron case strip *6
1.6mm hex key *1
Gift(will not send make-up or replacements)
M2x3mm cylindrical head screw *2

M2x8mm cylindrical head screw *2

M3x12mm countersunk screw *2

M3x6mm countersunk screw *2
2200mha battery (Only for the Tri-mode Version Case) *2
Silicone pad of battery compartment (Only for the Tri-mode Version Case) *2
Review links (Stay Tuned for More)
Mykeyclub Team
We are a platform that integrates creativity and innovative design, helping more studios join this hobby community and bringing more fun and cool products to you guys. Please participate in our MKC family for more discussions and future updates.
Best Wishes
Mykeyclub Team