Hey my keeb friends, after receiving great feedback and testing the prototypes, it's time THINK6.5° is ready for the Group Buy. Think6.5° is a keyboard I co-designed with Geekhack user Oldcat. Oldcat and I will be working together during the GB process. I will be primarily be the ground man responsible for manufacturing, fulfillment, and partial invoicing. And Oldcat will be coordinating with me for manufacturing/fulfillment, communicating with GB participants, and possibly doing partial invoicing.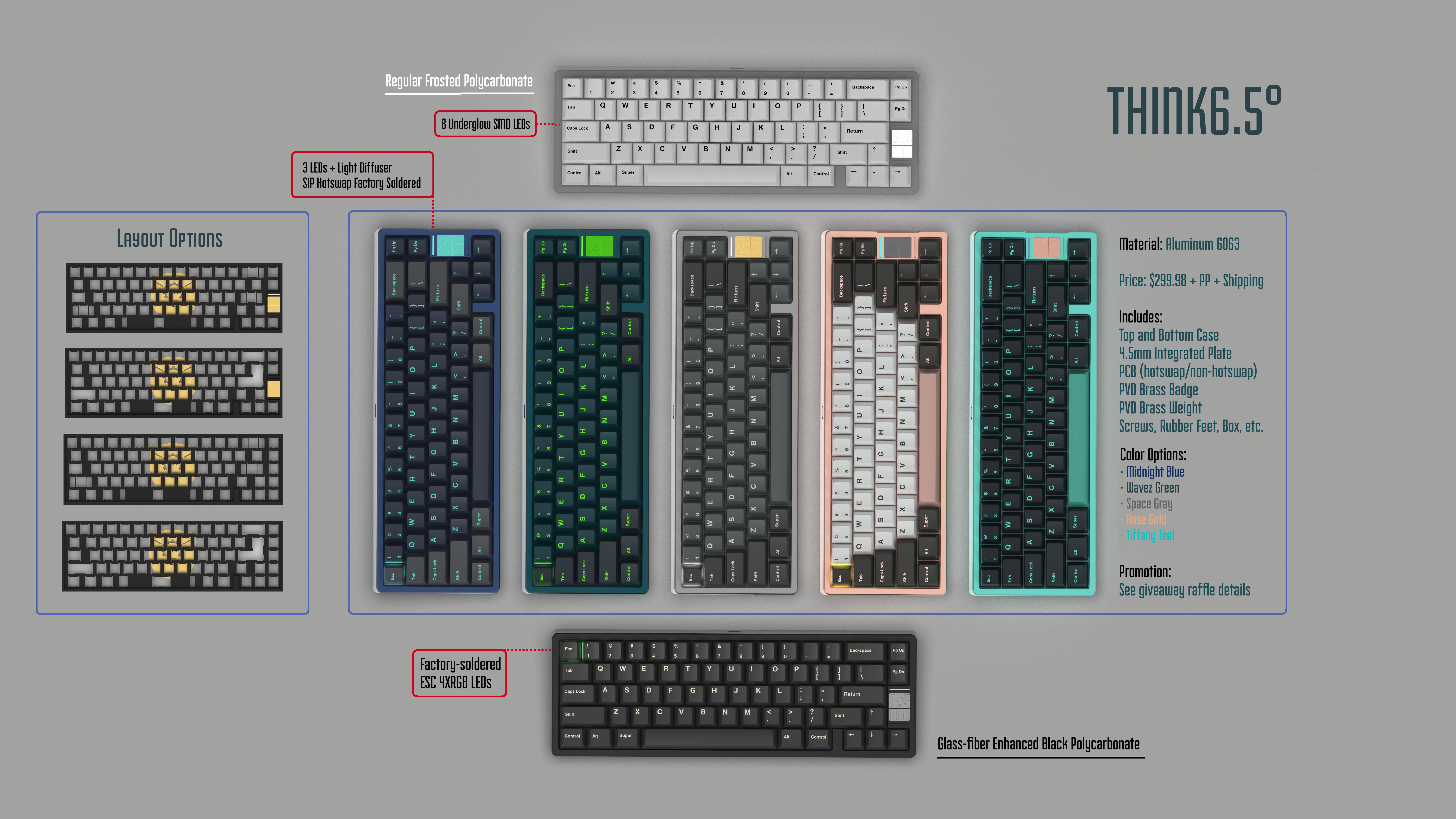 The name Think6.5° comes from René Descartes' philosophy that "I think, therefore I am." Combining the fact that the board has a 6.5° degree angle, we name it Think6.5°.
Key Features
Premium-quality and affordable 65% keyboard in different materials and colors
6.5 degree angle
Default option includes PVD Brass Badge and PVD Brass Weight which will be premium upgrades in many other group buys
4.5mm, integrated plate, with switch slot and corner cuts to optimize switch tolerance.
Four versions: ANSI with badge (compact 660), ANSI without badge, Compatible-layout with badge, and compatible-layout without badge
PCB: fully programmable, QMK, type-C (center position connector), underglow, ESC 4XRGB, 3 hotswap LED slots above badge, Kaihua hotswap sockets for ANSI layouts, non-hotswap for compatible layouts. Compatible with PCB screw-in stabilizers.
Limited Edition full brass versions
Keyboard Design: oldcat and airpotter
PCB Design: DEMO Studio
Manufacturer: gray studio and factory
Group Buy Forms
Polycarbonate/Aluminum GB: Ends April 30
Link to Aluminum 6063 GB form: https://docs.google.com/forms/d/1VdI2czaCw4di53ntalcvGMlHlJaqR949d0QDGedKqyo/
Link to PC Form: https://docs.google.com/forms/d/1g47x4puu_xyECA1WHyrnbacP7MBZ9OHq-VtDV8z2_NA/
Group Buy Payment Process
PayPal invoices will be issued in the order of sequence, you will have until the end of the Group Buy payment deadline window to pay the invoice. If you have questions or concerns about payments, ask before paying.
5% fees that include PayPal fee and currency exchange fees will be added.
Shipping fees will be billed based on your courier preference (SF Express or EMS/DHL). It should be noted that SF Express is cheaper for most part of the world.
SF Express: http://www.sf-express.com/sg/en/dynamic_function/price/
DHL: https://ratequote.dhl-usa.com/
Timeline
GB Fulfillment: Start fulfilling 4 months after GB payment collection, ships in order sequence.
Polycarbonate/Aluminum Think65 Details
Think65 will be produced in (a) regular Clear PC, (b) reinforced Black PC, and ©Aluminum 6063.
Aluminum color choices: Midnight blue, Wavez Green, Tiffany blue, Space Gray, and Olivia Rose Gold.
Price: $299.98
What's In The Box?
Each Think65 will include the following:
1x case, top and bottom
1x brass weight (gold PVD)
1x brass badge (gold PVD, not included with layout #2(b) or #4(d))
1x PCB
Plenty of screws, rubber feet, LEDs, box designed by airpotter.
Options // Accessories
Extra badges, weights, and PCBs will be available. Please read form for more details.
Raffle // Giveaway Details
Eligibility:
The invoice needs to be paid by the time raffle starts (raffle starts after payment deadline).
Follow

@oldcat87

(https://www.instagram.com/oldcat87/) and

@graystudio01

(https://www.instagram.com/graystudio01/) on Instagram.
Procedure:
On the day GB payment is fully collected, oldcat will draw the raffle winners. All orders will be ranked chronologically by order submission time to determine eligibility with the following raffles. Random number generators will be used to determine the winners. If the situation permits, oldcat will live stream the raffle process.
1 randomly selected winner out of ALL orders will receive 70 pcs of Transparent GSUS Panda switches we purchased from a private China GB.
3 randomly selected winners out of ALL orders will receive a $49.98 refund.
First 65 orders will be entered into a drawing of 1 winner of an anodized aluminum badge collection ($110 value).
First 100 orders (first 65 still eligible) will be entered into a drawing of 3 winners of 1 rose gold PVD brass weight ($30 value).
First 150 orders (first 100 still eligible, same applies below) will be entered into a drawing of 3 winners of 1 rose gold PVD brass badge ($20 value).
First 200 orders (first 150 still eligible, same applies below) will be entered into a drawing of 3 winners of 1 Wavez color aluminum badge.
If we reach more than 200 orders, for every 50 order increments we will giveaway 3 badges, possibly PC badges.
We will announce additional giveaways after the whole GB completes, all GB participants will be eligible.
Raffle for Brass, PC, and Aluminum are combined for Giveaway

#1

and

#2

. Other raffle giveaways are combined for PC and Aluminum.
Notes: For fair raffle drawing purposes, if you plan to order multiple boards, please fill out multiple forms. Every order is eligible as one ticket for a raffle drawing. Shipping for multiple orders will be combined later on. If you win a raffle and you added optional items, your invoice will be partially refunded (pro-rated partial refund based on the stated value if the raffle item is part of the optional combo items).
Links of interest
Follow oldcat on Instagram
Follow graystudio on Instagram
Chat on Discord Channel
Special Thanks:
To Spade, BHK1004, voxkey, Langelandia, urbantheii, eskimojo, Capsy, and many other Gray Discord members for the continuous feedback and strong support.
To Visionaire for helping with the Excel forms.
To Cary, PP, Scott, 虾饺一通, and other enthusiasts in the Chinese keeb community for letting me borrow your expensive keycaps and for the voluntary help with the photoshoot.
To EnjoyInSec and Olivia for sharing the color codes of their amazing sets for our new anodization colors.
To TopClack (Brian, Jae, and viewers) for the IC release-day discussions and suggestions.
Additional Information:
Photo Album for the Prototypes: https://imgur.com/a/nr0e886
Sound test: https://soundcloud.com/oldcat87/think65-with-retooled-blacks
Note: the brass badges and weights in the prototypes have not been PVD treated.
Visuals:
Polycarb Scratch Tests:
1. With metal tweezer

2. With plastic