TLDR: Hoping someone can both double check my logic here and recommend a replacement part # (and a place to source it if you're feeling generous) for the SMD diodes used on this board (FC750R PD).
Full story: I am working on a board for a friend and desoldered the old switches and soldered in new switches yesterday. After I finished up (but foolishly not before I started) I used Switch Hitter and Aquakeytest to check the board. I saw that R-Windows and R-Ctrl were not working. I realized there is no R-Windows because it's the Fn key on this board but that didn't explain R-Ctrl. I checked the switch with multimeter and confirmed it was working. I was worried I lifted a trace at first but after scratching my head for a while I determined that I most likely broke the diode for R-Ctrl carelessly at some point. In retrospect it's fairly obvious because it looks visible different than the other working diodes and I was able to get R-Ctrl to active by bridging past it to the switch traces with some tweezers.
I threw a couple annotated images together of the PCB, the diode in question, and the traces for R-Ctrl to explains some of the troubleshooting I've already done (https://imgur.com/a/5zMXsgB). The diode in question is D59.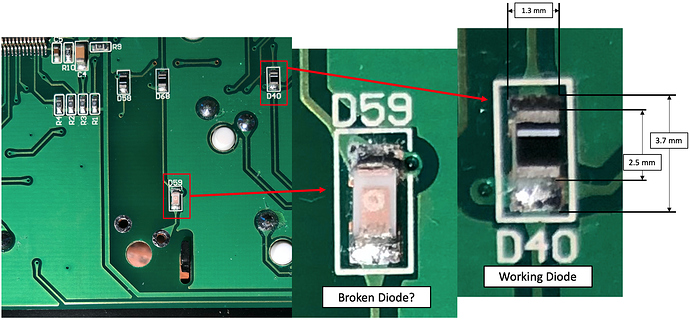 I already purchased these diodes off amazon based off some googling and searching in this sub (link). Based on my research I was looking for 1N4148 in an SMD package. The product from amazon linked above says its a "1N4148W" in a SOD-123 package. I'm not sure what the W designation at the end means. The package size is different from the diodes on the board (larger width and height, but very close length), but the dimensions are close enough that I think it should fit on the traces. Could anyone confirm/deny that these going to work for me? If not, what is the appropriate diode? I ordered off amazon because I promised my friend his board back a week ago and I'm still not done with it because because I'm good for nothing and I wanted to get back to him ASAP.