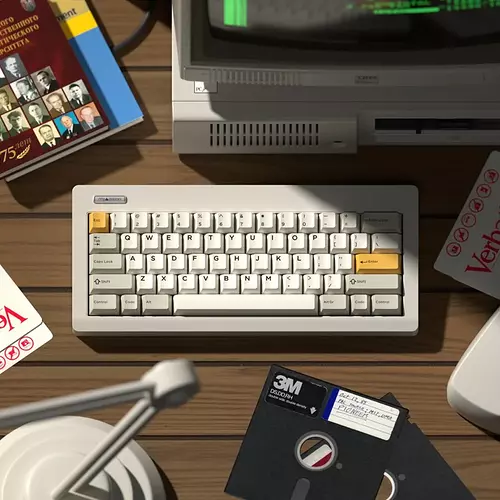 Sup Retro Gang! This is MM Studio. We make retro inspired custom keyboards.
Discord: BrDgC7a4eV
The MM in MM studio, which means Minimal Makeover, shows our determination to combine more modern elements into our minimalism design. We want to make our next board a retro-inspired design with more modern functionality.
We are very humbled by the love our community showed us in the past and their seal of approval for our products. It also makes us a little bit proud that we fulfilled each of projects in less than 4 months!
Now we want to present you our newest creation – The Class60
When we were collecting ideas for the next project, the designer came across an old document about the Symbolics Computer. That's where he draws the inspiration for the Class60.
0. Features:
In Short - The Class60 is a Leaf-spring/Top dual mounting 60% Keyboard, we kept the beloved Buzzer & Solenoid feature from the previous board the Class80 and on top also added the support for QMK&VIAL compatible capacitive PCB (sorry we can use the "T" word) and an optional wrist rest to enlarge the chin of the keyboard, our community is crazy about bezels.
1. Aesthetics & Design
1.1. Size: 31.47cm length and 13.62cm width and the front is sloped with a height of 18.7-21.1mm
1.2. Top Case options: WK/WKL/HHKB top case available
1.3. Color Options: E-Retro white, Ano Red, Ano Silver, Ano Black, Ano Blue, Ano Grey
1.4. Badge: The front Stainless Steel badge with print a mountain-like "M" with the Class60's name (may vary slightly in production)
We will also provide empty badges for those who want to customize it and put something special on it.
1.5. Weight options: currently Mirror Black PVD SS or Sandblasted Black PVD SS - tell us if you want see more options
2. Internals:
As mentioned briefly before, Class60 supports leaf-spring mount and top mount. We kept the Buzzer/solenoid and added capacitive PCB support. And of course, how can we leave out the plateless build, which is already tradition in our boards

full of goodness you will never see when built, but rather hear and feel
2.1 PCB: 1.6mm PCB with no flex cut, 5 different PCB are available:
· Wired Soldered 60%
· Wired Hotswap 60%
· Bluetooth Hotswap 60%
· Wired Hotswap left-shifted 64% (60% with arrow keys)
· Wired Capacitive PCB (including everything except keycaps in the capacitive version base kit; the PCB supports dsk, niz, topre standards, The default slider are MX compatible).
2.3 Plate options:
Left shifted 64% plate: PC only
Capacitive PCB plate: Alu only (2 options: Split BS or 2u BS)
(Please notice that the Capacitive PCB plate only compatible with the layout on the chosen plate, and the two plate options we will provide support split BS/2U BS and step Caps. If you would like to have other layouts like ISO, you need to make your own plate, of course we will provide plate files)
Wired Soldered/Wired HS/Bluetooth HS: from back to front FR4, PC, Brass, Alu
2.4 Wrist rest (optional): The wrist rest is made of Polycarbonate + Alu, is magnet-guided and attaches strongly to the magnets on the slope of the chin, 6 different colors will be available, matching the colors of the top case.
2.5 Specification:
· Size:L 314.7mm, W 136.2mm
· Typing angle: 7°
· Front height:18.7-21.1mm
· Case material: 6063 Alu
· Battery cavity cover: Transparent Electrophoresis Brass
· Leaf-spring material: Stainless Steel + phosphor bronze
· PCB:1.6mm no flex cut; QMK based, VIAL compatible
· Colors: E-Retro white, Ano Red, Ano Silver, Ano Black, Ano Blue, Ano Grey
3. Estimated GB time and price:
Base keyboard kit: base version around 250$ (sandblasted PVB weight, wired mx PCB, any plate except brass)
optional upgrades includes: mirror PVD weight (~30$), bluetooth PCB (~20$), Capacitive PCB pack (~95$), brass plate (~20$)
Wrist rest: 60$
Est GB time: June 2023
4. Box Content:
· Top Case
· Bottom Case
· Brass Weight & Battery cover
· SS Badge
· PCB + daughterboard (capacitive PCB incl. domes & sliders)
· Plate
· Foam kit
5. Extras
· Blank SS Badge
· Wrist rest
· PCBs
· Capacitive PCB pack
· Plates
· Mounting leaf springs
· Foam kit
· Tools
· Buzzer & Solenoid
6. Vendors
TBD, working on it
Protos going out, Reviews coming soon
**We hope you are as excited as we are! Come join us on Discord: BrDgC7a4eV