Hi there,
This is a special day for IQUNIX; hopefully, it is the same for the community. It's our pleasure to announce our offshoot site - IQUNIX Super and the new project "1+1".
We are currently holding an IC for it to check out what configurations you are interested in, your opinions matter!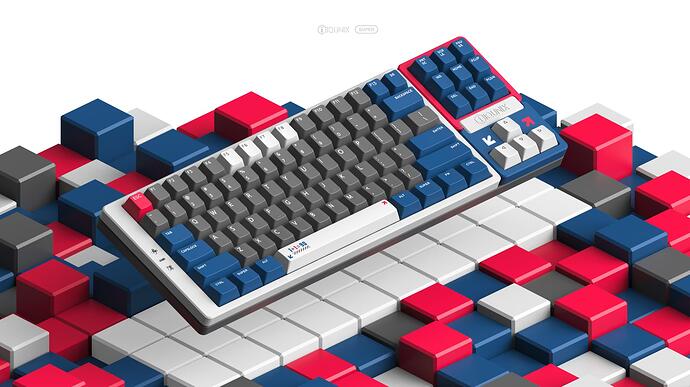 ---
DESIGN CONCEPT
Current version
Our latest launch is the TKL/87% layout of the IQUNIX SUPER 1+1 Series, a Gasket Mount keyboard kit.

The top case of the main key area, navigation keys, and arrow keys are divided into three contrasting color areas, allowing you to freely mix and match frames in different colors.

In 1+1 design, PCB and plate were split into two parts, namely the 60 base with F row area and the right navigation area, so that users can obtain a more enjoyable customization experience for the appearance.

IQUNIX Super 1+1 features a more compact F-row with additional F13 and multimedia keys. Offer a wide range of colorways, layouts, and accessory options, satisfying everyone's needs in terms of material, functionality, and layouts.
---
SPECIFICATION

Gasket Mount


6.5° typing angle


Interface: USB-C


All Aluminum Cases


Cherry PCB-Mount Stabilizer


Connection: Wired / Tri-Mode


Software: QMK (Wired) / IQUNIX firmware (Tri-Mode)


Dimension: 377mm * 128mm * 22mm(front height)


Compatible Switches: 3-pin & 5-pin Switches (Cherry MX and clones)
---
ABOUT CASE

All CNC Aluminum Cases
IQUNIX has an alias "Aluminum Factory", given the honor name by our users. As the name suggests, aluminum products are the strength of IQUNIX, with 9 years of experience in this field - you can always trust us.

8 Different Case Colorways
8 colorways for IC, which are primary colors, yellow, white, red, green, silver, grey, and black. Vote your vibe on IC form.
---
ABOUT LAYOUT

Both WK and WKL Available
These two get different top cases.

Both ANSI and ISO Compatible
The ultra-compatible PCB supports both ANSI and ISO layouts.

Ultra-Compatible PCB (split keys)
It supports a variety of options, such as full and split backspace, 7U and 6.25U spacebar, Split Spacebar (3u-1u-3u), Split left shift, and Stepped caps lock.
---
ABOUT FIRMWARE
Wired connection with QMK firmware
Tri-mode connection with IQUNIX firmware
---
ABOUT PLATE

FR4 / Aluminum / PC / Brass
Four different types of plates, each made from varying materials with different levels of hardness, sound, and typing feel.
---
EXTRA LOGO&WEIGHT
We offer extra PVD logo badges and weight options. Enhancing your keyboard with add-ons to accommodate various tastes and adding a splash of color.
---
Final Words
Our team is made up of experts in mechanical keyboard design and engineering, and we're constantly striving to improve our products to meet more requirements. Meanwhile, we value the voices and feedback of our users, which is why we are proud to introduce our latest product line - IQUNIX SUPER SERIES - mature technologies, and professional equipment, from pieces to prototypes, all come from IQUNIX.
---
*NOTE: All product images displayed are for illustrative purposes only. Please note that all details are subject to change prior to production. We will be updating more pictures and videos soon.
IQUNIX Team