Hi all, it's IQUNIX again, keep up with our non-stop pace! We've launched IC forms of ZONEX 75 (GB coming soon), 1+1, Tilly 60, and Striker 80. Today, it's Ardbeg 65 time!
Learn more here.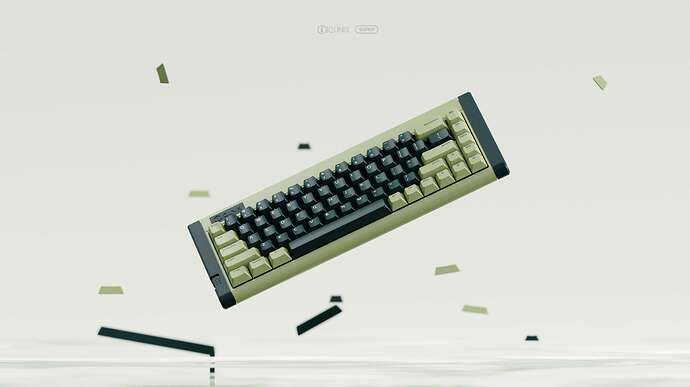 Introduction
Ardbeg 65, is the epitome of compact elegance. Seamlessly combines functionality with space-saving considerations. The stylish form and captivating blend of deep green and emerald green hues evoke a retro charm.
One of the standout features of this keyboard is the detachable decorations on the left and right sides. Not only do they provide visual contrast, but they also offer the opportunity for personalization by matching them with your preferred colors. This DIY-style approach adds a touch of individuality to the overall design.
Furthermore, Ardbeg 65 provides 3 different heights of feet, you can adjust the typing height of the keyboard to deliver the perfect balance you desire.
About Case
Crafted with high-quality CNC-machined aluminum alloy, resulting in a finely polished surface that showcases gentle curves, enhancing the keyboard's retro elegance. Anodized or e-coating coloring techniques are employed to ensure both the texture and durability of the keyboard.
Five Case Colors
Green, black, dark gray, cream, and white.
Layout Options
WK
WKL
ISO version: the final decision on which layout to proceed with for the group buy will depend on the interest and preferences of our customers.
Additionally, we would like to know if you have any other key placement requirements or preferences for split layouts. This information will impact the final design of the PCB. Please indicate your specific needs in the IC form, and we will make every effort to accommodate them.
Software
Tri-mode: IQUNIX Firmware
However, if you have a strong preference for a wired connection compatible with the QMK, please let us know in the IC form.
Plate Options
Aluminum / FR4 / PC / Brass / POM
Specification
Typing angle: 6°
Dimension: 342mm * 131mm* 19mm
Case Material: Aluminum
Structure: Tray Mount
Stabs: PCB-Mount Stabilizer
Connection: Tri-Mode
Software: IQUNIX firmware
Interface: USB-C