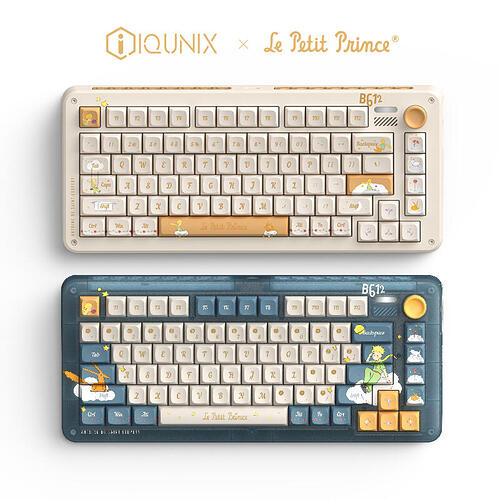 STORY
The story begins with…
The CEO of IQUNIX, driven by his wife's deep love for Le Petit Prince, decided to hold a wedding inspired by the beloved tale to fulfill their beautiful wish.
The entire company came together to celebrate this romantic wedding.
The venue was adorned with a giant glass dome enclosing a single rose, set against a backdrop of a starry night sky and an assortment of asteroids resembling B-612.
Following the wedding, the corporation officially signed with Le Petit Prince, integrating its essence into the mechanical keyboard business.
As a result of months of dedicated effort, four aesthetically pleasing designs emerged, accompanied by a captivating love story.
A sweet couple, a romantic love story, he's her little prince, and she's his rose.
Together, they unveiled these exquisite designs to the world.
These themed keyboards incorporate the story of Le Petit Prince through great designs, referencing key moments from the book.
FEATURES
F97: 96% Layout (100 keys)
4000mAh Battery
Aluminum Case
ZX75: 75% Layout (81 Keys)
6000mAh
PC Case
KDA Profile PBT Keycaps
BT 5.1 (3 devices), 2.4GHz, Type-C
Windows / macOS / iOS / Android
What's in the box: Keyboard×1, Metal Le Petit Prince Keycap×1, Mac Supplementary Keycaps×4, Manual×1, Puller×1, Dust Cover×1, 2.4GHz Receiver×1
LAYOUT & LEGEND
ANSI and ISO
For ISO layout with legends of different countries, depending on the number of people.
COLORS
F97: Navy Blue & Green
ZX75: Creamy White & Translucent Blue
FIRMWARE
IQUNIX Firmware (Tri-mode)
Connect with us
Find them on IQUNIX.store and let us know your questions and suggestions.
Thank you,
IQUNIX Team