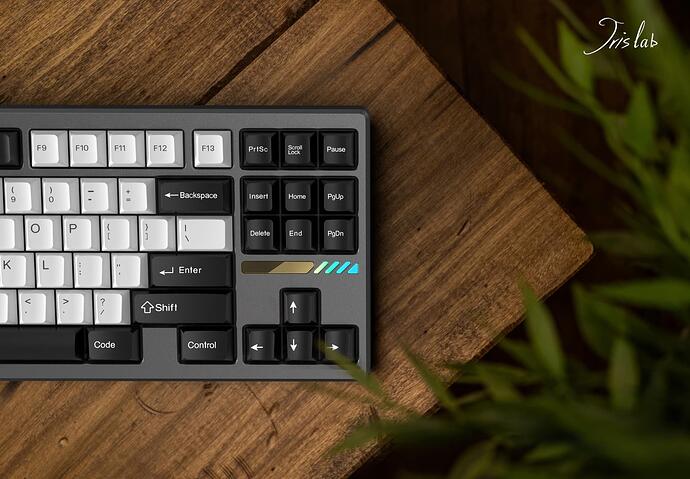 Hello Everyone,
Let's introduce a new project from IRISLab again. Thank you for your continuous support and encouraging us to launch the third project—JRIS80!
IRISLab aims to let customers experience better custom kits at a valuable price so that more members can enjoy the fun of custom keyboards. And the most popular layout of customized keyboards is 65%, 75%, and 80%, so the third project is an 80% keyboard, and the JRIS product line finally fully covers those three layouts!
The JRIS adopted simple and beautiful design concepts, reflected in JRIS65 and JRIS75. JRIS80 will be more different from previous products to show our progress and ideas while being beautiful and practical.
JRIS80 Highlights
Full CNC 6063 Aluminum Case, experience uncompromised customization kit.
WK and WKL are Both Available.
Quick Disassembly - exchange the WK and WKL top case. No screws or tools are required!
Supports F13 Key and Tsangan Bottom Row, making the front side symmetrical and clean.
The LED light strip with Gold PVD stainless steel strip on the front personality and cool.
The swappable magnetic weights meet a variety of designs.
CNC Sandblasted PVD Stainless Steel Internal Weight.
Triple Gasket Adjustment–adjust the typing feel depending on your preference.
More PCBs and plates are available. Experience your own custom keyboard.
More Add-ons are available for your personal needs.
---
JRIS80 Information
Price : From 165USD~
Front Design
WK and WKL are both available.
The layout supports F13 Key + Tsangan Bottom Row, which looks more symmetrical, harmonious, beautiful, and compact. In the position of F13, it can be used as a custom module, which we will provide as add-ons to make JRIS80 more functional.
Adopts a LED light strip with a gold PVD stainless steel strip to improve the display of RGB to be more unique and beautiful on the front.
Side Design:
The simple and smooth design showed the original intention of JRIS80: Simple and Clean.
Back Design:
The JRIS80 still adopts the 2 weights but with a different design. We connected the previous large and small weights to form a closed rectangle with an inverted triangle weight inside. We use rectangles to express the concept of completeness and inverted triangles to express the sense of stability and strength. It also represents that the JRIS product series has finally completely covered 65%, 75%, and 80% layout.
Rectangle Weight:
Anodized Alu Weight
PVD Mirror Stainless Steel Weight
Titanium Alloy Weight
A colorful design through multiple composite processing and coloring processes. The surface texture is used to decorate, and the fine and silky surface post-processing can bring a better tactile experience.
Swappable Magnetic Inverted Triangle Weight:
The inverted Triangle Weight highlights the personalized decoration on the back. We use various composite processing and coloring techniques to display the surface pattern. Different designs are options
The three-dimensional carving of PVD Mirror Brass Weight will bring another different experience.
The magnet installs way, allowing you to quickly swappable your inverted triangle weight.
Structure:
CNC sandblasted PVD SS internal weight brings a more concise and beautiful internal space, which covers the battery compartment and hides the screws of the external weights. And it also makes the bottom case more stable and reduces the hollow sound sounds when typing.
Triple Gasket Adjustment: The silicon dumbbell-looking gaskets let you adjust the typing feel depending on your preference.
Quick Disassembly:
Swappable WK and WKL top cases are easy and quick. No screws or tools are required! No struggle with WK or WKL.
---
Options for JRIS80
Case Options:
5 E-coat case: E-White/Milky White/Pink/Lilac/Orange
6 Anodized Case: Black/Silver/Wine Red/Navy Blue/Dark Green/Titanium Grey
6 Color combos case: E-White&Black/Orange&Black/WineRed&Black/Navy Blue &Black/Dark Green&Black/Titanium Grey&Black
Weight Options
Alu Weight: Gold/Silver/Black
PVD Weight: Gold/Silver/Black/Blue/Gradient/Chroma
Titanium Alloy Weight
PCB Options:
Wired Flex Cut Multi Layout Hotswap PCB( 1.2mm, No Per-key RGB, support QMK and VIA )
Wired Non-Flex Cut Multi Layout Hotswap PCB(1.6mm, No Per-key RGB, support QMK and VIA )
Wired Per-Key RGB ANSI Hotswap PCB (1.6mm, Non-Flex Cut, support QMK and VIA )
Wired Non-Flex Cut Multi Layout Solder PCB(1.6mm, No Per-key RGB, support QMK and VIA )
Tri-mode ANSI Hotswap PCB (1.6mm, Non-Flex Cut, No Per-key RGB, support IRISLab Software)
Plate Options:
Flex Cut Plates: FR4/ALU
Non-flex Cut Plates: PC/POM
Plateless Build
Add-ons Options:
WK and WKL top case
Brass PVD Rotary Knob
Brass PVD LED Light Sign
PVD Stainless Steel strip
Various Rectangle and Inverted Triangle Weight
---
What's in package?
1x Full CNC Aluminum Case
1x PVD SS internal Weight
1x Rectangle and Inverted Triangle Weight
1 x PCB
1 x Plate or Plateless build
1x Poron Case Foam
1x Poron Plate Foam
1x IXPE Foam
1x Pack Gasket Silicone column
1xType-C Daughterboard with JST Cable
1 Set of Footpad
Gift(will not send make-up or replacements)
1x Customized Carrying Case
1x Customized Type-C Cable
1x Silicone pad of battery compartment (Only for the wired version )
2 x 2200mha Battery(Only for the Tri-mode version)
1 X Customized PVD Artisan keycaps
1x Aluminium Alloy Screwdriver with 2 replaceable bits
1 x 2 in 1 Switch puller and Keycap puller
---
If you are interested in JRIS80, please fill in IC Form. We would like to hear your opinion.
Mykeyclub is a platform that integrates creativity and innovative design, helping more studios join this hobby community and bringing more fun and cool products to you guys. For more discussions and future updates, please join Mykeyclub Official Discord.
Best Wishes
Mykeyclub Team