KAT Napoleonic
Inspired by early 19th century history.
Optimized for affordable language compatibility.
Home Page: https://katnapoleonic.com/kat-napoleonic/
Survey: https://forms.gle/REnoicL2PNNU1VJE6
Group Buy November 9th, 2020
Other Links
US English on KBD19X by KBDfans. Renders by Manzel.
Background
Tactician.
Tyrant.
Modernizer.
Murderer.
On the Ninth of November, 1799 (18 Brumaire in the Revolutionary calendar), a coup d'etat overthrew the French Directorate and replaced it with a new government: a Consulate to be led by General Napoleon Bonaparte. Just a few short years later, he would be crowned Emperor.
To say his rise to power ruffled a few feathers across Europe would be a gross understatement. While he is credited with bringing about positive reforms to the legal and governmental systems of France, his legacy is one tainted by costly, bloody wars across the continent.
Those early decades of the nineteenth century, from Napoleon's rise to his death, roughly mark the Napoleonic Period, an era that left indelible marks upon the face of Europe and the world.
KAT Napoleonic is a keycap set in the KAT profile that explores the history and artistic depictions of the Napoleonic Period.
US International on Mech27-TKL by Mech27. Render by Manzel.
Neoclassical Typeface
KAT Napoleonic utilizes a modified form of Playfair Display for most of its alpha keys and legend text. It is a serif-based typeface (uncommon in keycaps), and it is inspired by the Transitional and Neoclassical typefaces of the nineteenth century: Baskerville, Bodoni, and Didot.
Wide Affordable Localization
Because of the global nature of Napoleon's impact on history, a primary goal for KAT Napoleonic has always been wide localization support. While it may not always be practical for manufacturers to support a wider array of languages and layouts in a cost-effective manner, the KAT profile does provide that flexibility.
While this keyset cannot feasibly provide support for every language worldwide, KAT Napoleonic supports more than twenty-one locales in base alpha kits. Kits available include many that are rarely (if ever) seen in the Mechanical Keyboard hobby: Swiss, BÉPO, South Slavic, Tamil, Cherokee, and Canadian French.
Colors & Uniforms
KAT Napoleonic's primary alpha legends present dark indigo text upon a warm, ivory-like white background. A lower-contrast yellow-gold color is used for alpha key sublegends.
KAT Napoleonic's modifier keys come in three "uniforms" of color, each inspired by the military uniforms of the era, with particular attention to the Battle of Austerlitz (1805). Austerlitz was a clash of three empires: France, Russia, and Austria. For KAT Napoleonic, you are likewise given a choice of three uniforms: French Indigo, Russian Green, and Austrian White.
Read more about the Colors & Uniforms on Wordpress.
Renders
Only a subset of renders are shown here (to keep the page from taking forever to load).
Please visit the Wordpress site to view all renders in full resolution. Alternatively, check out the Renders album on imgur.
S7-Elephant by jacky. Metternich alphas with TKL mods in Austrian White & Novelties. Render by manzel.
Mech27-TKL by Mech27. Waterloo alphas with TKL mods in French Indigo. Render by manzel.
Boardrun CNC by Shensmobile. Uhlan alphas with Ergo mods in Russian Green & Novelties. Render by manzel.
Neuron by walletburner. Pondicherry alphas with Forties mods in French Indigo. Render by manzel.

Abacus by SomeGreekGuy (unreleased). Austrian White numpad kit. Render by manzel.
Kits
As is typical for KAT, customers will need to choose a selection of "kits" that together will cover their chosen keyboard(s). For KAT Napoleonic, kits are broken into three major categories:
Alpha Kits
Core Mod Kits
Miscellaneous Kits
Imgur Albums
Alpha Kits
There are 21 different base Alpha kits currently planned. This list is not final, and some locales may be removed, updated, or added based on the results of the Interest Check survey.
Alpha Kits Table
Alpha kits that provide standard US QWERTY characters either in legends or sublegends are noted in bold in the rightmost column.
Except where noted, all Alpha kits use Windows 10 as the basis for all legends. Not all characters produced by AltGr or Shift+AltGr are provided in sublegends, with some omitted to keep kit sizes and prices from ballooning while maintaining compatibility.
The latest images are currently provided in this album:
KAT Napoleonic Alpha Kits
Core Modifier Kits
There are five core modifier kits for KAT Napoleonic, each provided with two-or-three colored "uniform" options: French Indigo, Russian Green, or Austrian White. Each core modifier kit also comes with a custom set of military-themed novelty keys: Retreat, Attack, Support, and Hold.
Some boards require one of the additional Miscellaneous Kits (e.g. Spacebars) for complete coverage. See the shopping list for examples.
Core Mod Kits Table
Miscellaneous Kits
Further Information
As has been noted several times, complete information about this keyset can be found on the KAT Napoleonic Home Page on Wordpress: (https://tinyurl.com/kat-napoleonic).
Physical Color Standards

KAT-Nap colors: RAL 5011, RAL 9010, Pantone 7403 U, RAL 6005, & RAL 3031
Colors shown in keyboard renders and diagrams should not be treated as accurate representations of final keycap colors. Manufacturer samples will be checked against physical color decks of the RAL and Pantone standards above. Be aware that some variation is always possible, and these colors are not guaranteed to be exact.
Existing Set Comparison
Early concept diagrams for KAT Napoleonic drew comparisons to GMK Rudy by Warrenified. Because the keycap designer community tends to frown on overly-similar colorways, Warrenified was consulted so as to double-check that we were in fact using different colors.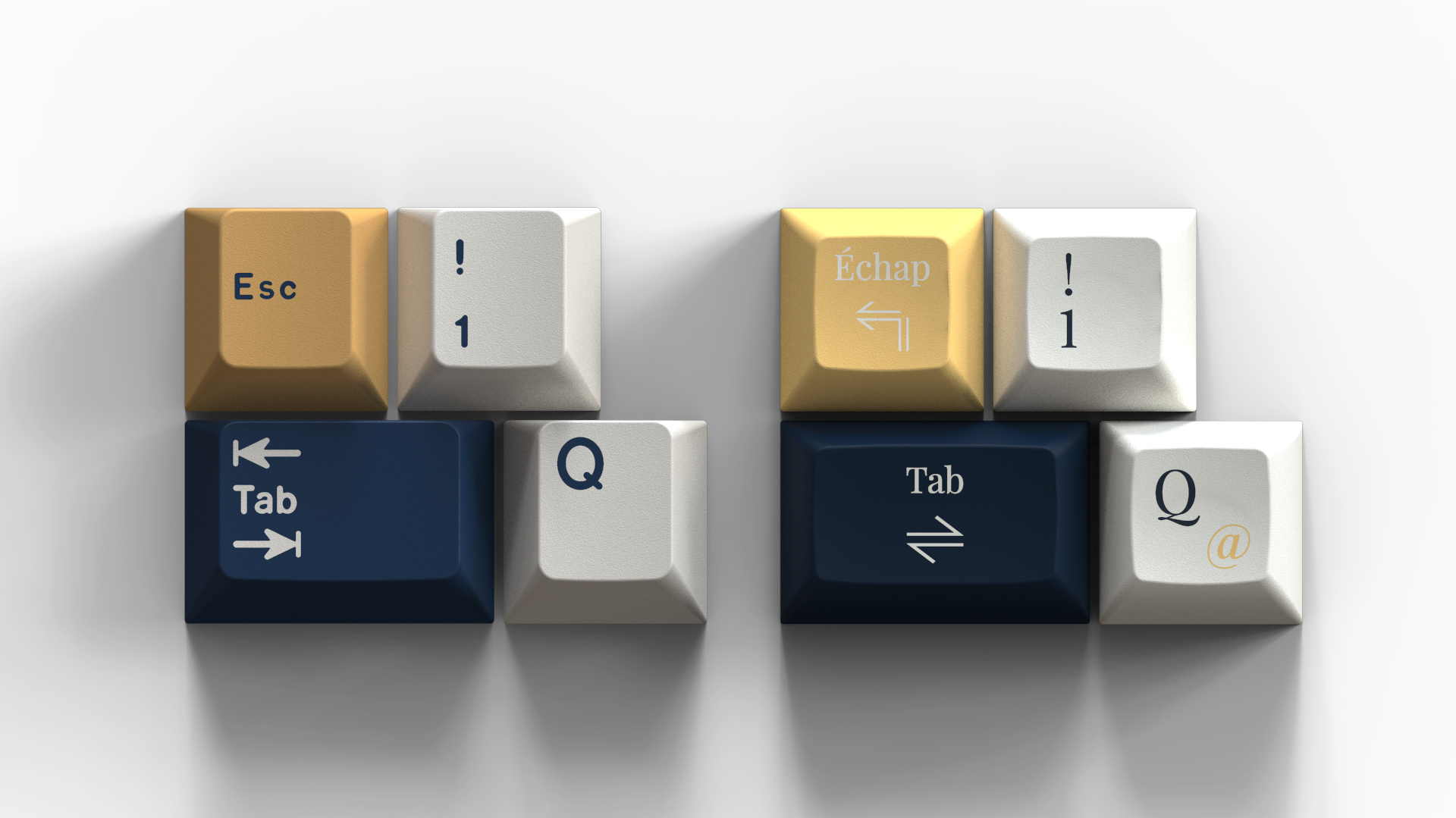 GMK Rudy (left) comparison to KAT Napoleonic French Indigo mods (right). Render by Ulliam.
Deskpads & Peripherals (WIP)
Visit the Wordpress site for more details.

Minard Deskpad

Tolstoy Deskpad
Copyright & Citations
Creative Commons Derivative Works
The following component designs and icons are licensed under Creative Commons Attribution-Share Alike 3 (full license text):
Public Domain Works Cited
Further Notes
All historical blurbs appearing in kit diagrams are paraphrased from various Wikipedia articles, except for a few selected quotes from:
No intellectual property from the above was used in the design of the actual keycaps or deskmats. Quotes and names used from Jonathan Strange & Mr Norrell in kit diagrams are intended as an homage. No endorsement of KAT Napoleonic by Susanna Clarke or Bloomsbury has been given nor should be implied.
All other designs are copyright 2020 by W. Alex Ronke (a.k.a. NoPunIn10Did). All Rights Reserved.
Thanks
Thanks to my wife, the love of my life, who has been very patient and supportive of all my creative endeavors.
Thanks to my daughter, who is an absolutely adorable four-year-old and brings so much joy to my life.
Thanks to Erik (a.k.a. MK Ultra), who believed in this project while it was still a germ of an idea.
Huge thanks to manzel for his amazing and punctual render work.
Thanks to Konstantin for all the advice on the particulars of punctuation positioning in legends as well as for drawing the correct Cyrillic J for the Karađorđe alpha kit.
Thanks to myKeyboard.eu and HID Technologies for committing to be vendors for this set, and for helping considerably with French conjugation & translation.
Thanks to onecreativemind for early advice on the modifier icons.
Thanks to Alex Lin at zFrontier for answering my KAT questions and committing to a Group Buy date early in this process.
Thanks to Ulliam for providing renders for the J02, the Prime_E, and the GMK Rudy comparison.
Thanks to shensmobile for sharing the Boardrun CNC file and for being a good creative sounding-board.
Thanks to walletburner for giving us permission to render the Neuron keyboard.
Thanks to SomeGreekGuy for sharing the Abacus CNC file and giving permission to render it.
Thanks to the members and moderators of the many Discord servers where I've solicited feedback for this and other projects, with particular thanks to:

40% Keyboards
Keycap Designers
Carolina Keyboards
Keyboard Atelier