Moonstone and "Shocked by Thock" Desk Mats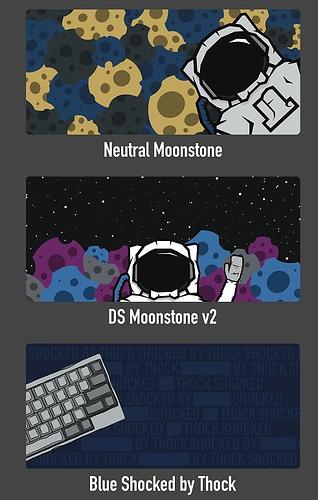 Overview
Hello everyone, we're Nick (blackriver35) and Greg from Desk Cookies! This is our first time doing an interest check so bare with us for a moment. Today we have three different designs for you all to look at. The first is a new colorway of the popular Moonstone deskmat designed by blackriver35. Before we started our business, Nick had previously created the Moonstone design with different colors and received a lot of feedback around trying some other colorways. So, this time around, he switched up the colors to create a neutral look as well as creating a "V2" design introducing a star-filled sky.
We would love to gather as much feedback as possible and see how everybody feels about these current designs!
IC Form: https://forms.gle/WeCpXS3j9zJGZeKq6
Specifications/Features:
900mm x 400mm (Approximately 35" x 16")
Thickness: 4mm
Stitched Edges
Non-slip Rubber Base
EVA Bag Included
We will be the sole vendor of these mats once we proceed with the groupbuy. When we first started the business we only shipped within the United States, however we now ship worldwide!
We would like to thank everybody in advance for your participation and feedback!
If you'd like to stay in the loop on all things Desk Cookies or check out our other designs, feel free to follow us or stop by our website!
Instagram: https://www.instagram.com/deskcookies/
Website: https://deskcookies.com/