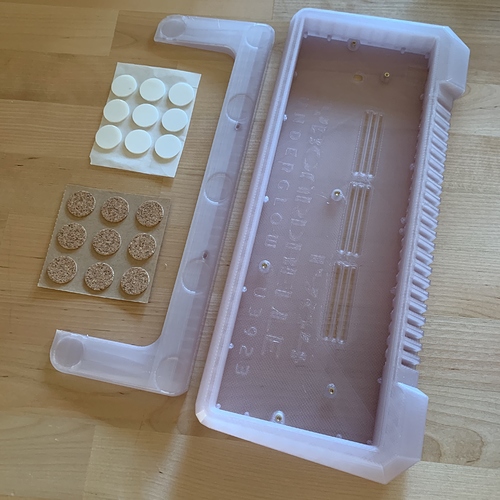 I get asked fairly regularly if I can share my 60% and other case designs and have been contemplating a way of using either Patreon or Kickstarter or both to go fully open source.
I have around thirty designs for a 60% layout that I typically sell, but I've also finished the basic designs to fit several other PCBs (NovelPad, PaladinPad, Minivan, Planck, Preonic, TADA68, KBD75, GK61, Instant60, etc).
I prototyped some resin printed artisan keycaps based on a low poly space theme, and I think by sharing STL files, they have more potential if people were able to print them at home.
Even the minor accessories I've made, like the Keyboardbelle Wedge, would work better if I open source a few dozen variants for people to 3D print at home. Almost any keyboard build could benefit from simple way to add a specific typing angle.
If I could figure out a way to do open source, I'd like to start next year with buying a Prusa Mini printer and challenging myself to only design for that size build envelope. Dozens of smaller macro pad and split cases would absolutely be possible for a hobbyist 3D printer and with a little skill, I could split and dovetail my 60% case designs and publish a guide on how to glue and sand them yourself to make a 60% case on a smaller 3D printer.
One of the most frustrating aspects of when I taught myself how to use a 3D printer was when I would download a design that did not fit or work for its intended purpose. All of my case designs are hand tested before I release a design.
For reference, about 50% of my design work is pictured on my Instagram: keyboardbelle_prints
In all, my potential files to open source are about three years worth of design work and I'd like to see how many new designs I can complete next year.
When designing the 1980s themed cases, I'd really like to take permutations of the number and thickness of vents and create enough to where two different people can choose a more unique case based on what they consider to be aesthetically pleasing (even if it is as simple as a case with five vents instead of eight, or a smooth polygon look instead of a low polygon count).
Also, if you Google image Keyboardbelle, you can find photos that customers have taken with the prints I've sold.
As is, I can only cover a small fraction of potential designs by solely 3D printing myself and I think if I open sourced, then the design possibilities are exponentially better. I'm also behind on my box of PCBs that I simply don't have time to go through and design cases for.
I also dabbled in laser cutting with a Glowforge and made my own 6mm "out of spec" acrylic plates. I made them specifically for Nouvelle, but I could cover several more potential layouts and sizes if I could simply upload my files and someone else made what they wanted at home or at their local hackerspace.
I supposed I'm polling to see what potential value these designs would have for the community. I wish I could stick designs on my website for a few dollars per download, but since they're digital, it would be impossible to guarantee they stayed off free download sites like Thingiverse.
Postscript:
I also am behind the trends with PCB mount cases and I have some designs that may could compete with gasket mounts - but between running the shop and trying to keep 3D printers maintained, it's not possible to iterate many new designs to ensure a high quality.
TLDR:

How much is access to the art and design files of lots of interesting aesthetics worth to you?