"serenity is not freedom from the storm, but peace amid the storm."
Introducing Serenity, a 65% split cluster keyboard with a rotary knob.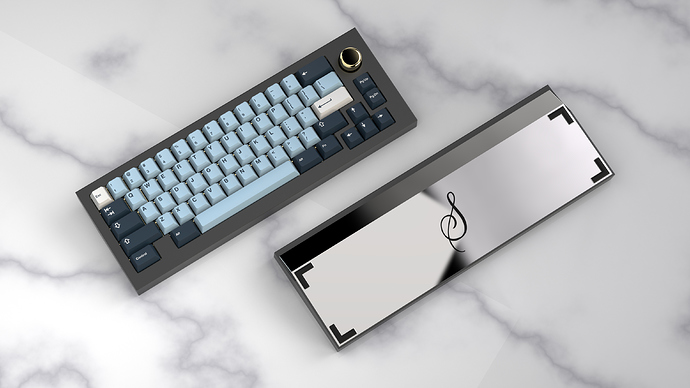 Planned GB start is June/July 2020. It will most likely be limited to 20-50 units which will be raffled.
Fueled by a burning passion for custom keyboards, I was always amazed by the unique artistic decisions other designers made in their quest for the perfect keyboard. Yet, dismayed by countless keyboards that did not satisfy my productivity needs, I pursued the creation of a custom keyboard with the intent to make a compact yet practical 65%, for an equilibrium between utility and aesthetic. Its split-cluster design allows for a minimal and uncluttered form factor, and the rotary knob offers a classy and modern way for users to control continuous values like volume. A baseplate with inspiration from the luxurious Keycult No. 2 SS further adds sophistication to the side and bottom profiles. After hundreds of hours of intricate designing and development, I present to you: Serenity.
Specifications:
Mirror Polished Stainless Steel or PVD Brass baseplate

PVD and Polished Brass Knob/Plate

EC09 Incremental Rotary Encoder

STM32 microprocessor

Custom USB-C PCB with QMK Support

Gasket Mounted on top and bottom of plate

6.9 degree typing angle (nice)

6063 Anodized Aluminum Top and Bottom

No externally visible screws
Layouts:
Keyboard as of now is in a fixed layout, and I plan to make it winkeyless only to reduce variety and cost. The two keys on the right can be mapped to many pairs of keys such as: Insert/Delete, Page Up/Page Down, and Home/End. If you have any suggestions for layouts please let me know in the IC form.
Colors / Materials:
Aluminum Case - Black Anodization, 1 to 2 more decided by IC form results.
Plate and Knob - Will be offered in the standard shiny and polished gold brass finish. If there is enough interest we may offer a polycarbonate plate or any other material.
Baseplate - Stainless steel version will be offered in the mirror polished silver finish. If there is sufficient interest we may also offer a PVD Clear/Rose Gold Brass option.
Expected Price:
The price of this board is undetermined but it will be announced as prototypes come in a few months. Expect this to be $500+. Additional brass plates and PCBs will cost around $40-60; we do not have a specific quote yet.
Execution:
Since this is my first group buy, I am most likely limiting this first run to 20-50 units. This means that the units will be raffled, via a form that I will send in my discord. If this group buy is successful, there will be future runs with more units

Current Status:
Prototypes are being ordered and will be tested in a few months but this may be delayed due to coronavirus and other issues. They will be examined both for functionality and aesthetics.
Everything is fairly flexible right now and we may have additional features if desired, such as a hotswap PCB, VIA support, or new plate materials.
Acknowledgements:
Gtrx - for designing the amazing PCB!
Kingk22 - for doing the beautiful renders!
NathanAlphaMan - for all your advice and help when I needed it

Keycult - Big fan of yours. Thank you so much for inspiring the design of this keyboard! And please check out the No. 1 Rev. 2, the No. 2/65, and No. 3 everyone!
Thank you for reading