The Vintage-60s keyboard is Designed and Manufactured in house in our G-Square Studio.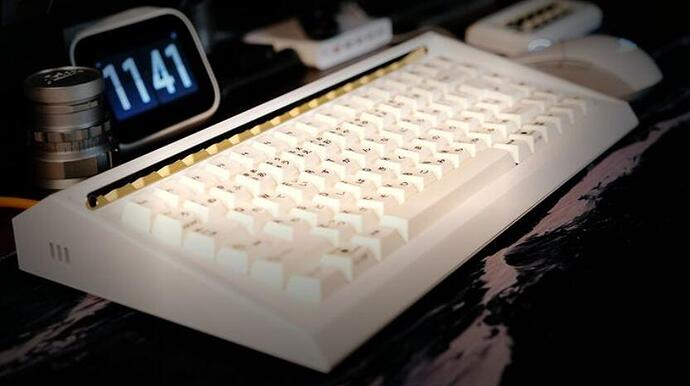 Specifications:
-Layout: HHKB / 60% / 65% / 75% / 75% with F row
-Typing angle: 7 degrees
-Mounting: Top mount
-Solenoid "Beamspring"
-Case: Aluminium
-Counterweight: Brass
-Plate: Aluminium / PC
-PCB: Solder / Hotswappable
-Connection: Type-C
-Software: QMK firmware / VIA
How can there be FIVE layouts possible in ONE keyboard?
The Vintage-60 design incorporates 5 different top plate configurations. These configurations can be seen on the Discord "live-ic" section. the discord invite can be found in the bio of our Instagram page which is titled "gsquare.studio".
What is the "Beamspring"?
The Beamspring technology used in the Vintage-60 is an option, that can be toggled on and off, that allows for the sound of the keyboard to sound like vintage IBM models! This is seen in the sound/typing test of the Vintage60! This video can be found on YouTube under our channel titled "G-Square Studio² ".
What colors will be available?
There will most likely be Black, Grey, and White for this GB round, and we plan on doing a run of at least 100 boards. If we get enough response for different colors the IC form, that's a possibility as well.
What's the estimated price?
€570-€590
Interested?
The group buy will be held on Eloquent Clicks and will be an EU group buy only, for now. Any other vendors in different parts of the world, feel free to reach out!
IC Form: just search up "vintage 60s eloquent clicks" in your browser and you'll find it!
IG: gsquare.studio
FB: G-Square Studio²
Discord: found in bio of IG
Geekhack: just search up "Vintage 60s keyboard geekhack" in your browser
There are many other projects/keyboards/desk accessories that have been previewed on our discord!