Hi KeebTalkers!
I'm Mattia and my partner, Mike, and I created the Work Louder project.
Our first keyboard, Creator Board [ext] is finally approaching its first Group Buy and we're really proud to share it with you guys! The Creator Board is a keyboard made for daily creators (Designers, Developers, and Gamers/Streamers). Let us know what you think about it, we really appreciate the feedback!

A low-profile, modular keyboard
as your daily companion.
The project was born from the need to have a keyboard that would facilitate our workflow as freelance designers, but at the same time not become "another peripheral" to clutter our setup. With this in mind, we built a keyboard that not only allows for easy visual mapping of short-cuts/macros in seconds, but also easily rearrange the physical layout of its 3 components via a plug & play system.
As creatives, we love when good design meets functionality to create delightful user experiences - that's why we spent 2 years researching and designing the Creator Board [ext]. A high aesthetic and functional tool, compatible with popular Adobe programs and other software we know and love.
Whether you are a creative, a developer, or simply a tech enthusiast, functionality and design are important to you. We decided to break the skeuomorphic design trend of the staggered keyboard layout, stretching back to the invention of the typewriter (no seriously look it up, the keys were staggers so the hammers wouldn't hit each other!) in favor of an ortholinear layout, which improves typing ergonomics and efficiency.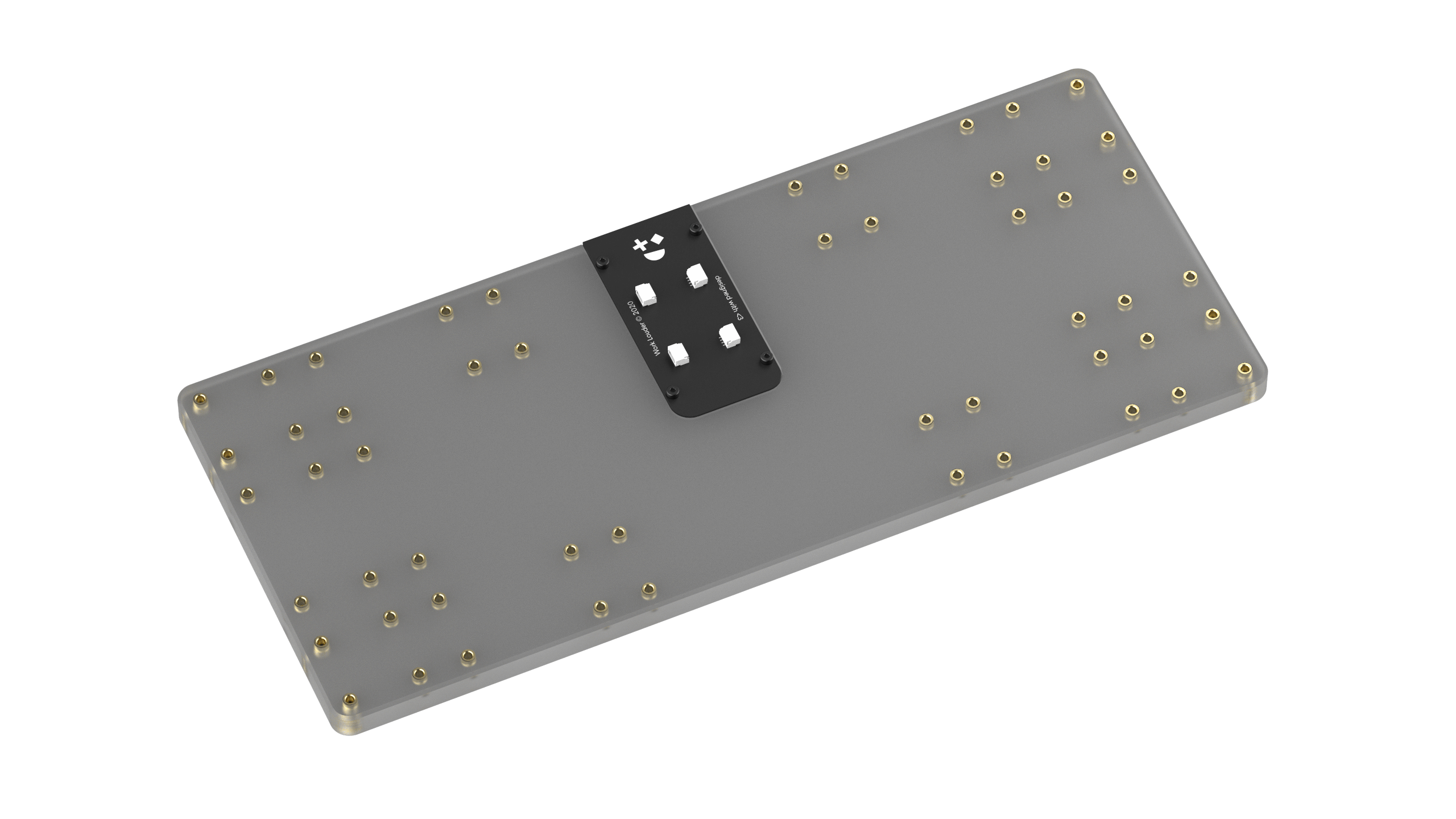 Fully modular grid system keyboard
Creator Board [ext] is composed on 3 primary boards: Nano pad, Loop pad and Work board and they can be screwed on the bottom plate in different ways thanks to the modular grid. This way you can customize the Creator Board [ext] to fit your perfect layout - Lefties rejoice!
Each of the 3 components is connected to a custom hub meaning you only need a single type-C cable to use the Creator Board with your PC, Linux, or Mac OS.
Other info:
Compact form factor:
Creator Board [ext] measures only 300x192mm to fit every clean, or tight, desk setup. Plus it's lightweight, so you can take it with you on the run!
Programmable (VIA):
The Creator Board uses the VIA Configurator with QMK firmware for customization, and is compatible with Windows, Linux and Mac OS.
Open firmware community:
Join the community to download our pre-configured layouts for major software, or contribute by uploading your own.
3D printable add-ons:
Create your own components by 3D printing to give your personal touch to the keyboard or download the available components from the community.
PCB elements:
// Nano pad: It's a tiny programmable pad with 2 keys and 1 encoder
// Loop pad: 9 keys and 3 encoder, some extra comfort for editing
// Work board: 40% ortholinear basic layout [because symmetry is good]
// Hub: Connects all the boards together [type-C connector]
Other Components:
// Low profile Kailh Choc switch [tactile brown]
// Custom design keycaps
// CNC Frosted PC bottom plate with multi-screw support
// 5mm spacers & screws
Important notes:
// All pcb come in 2 variations: with pre-soldered switches or in DIY kit, both with pre-installed firmware.
// The 3 boards communicate together thanks to a single pcb hub installed on the Bottom plate (using a 4 pin connector included in the box) letting you use a single type-C cable.
// The bottom plate comes with a pre-installed brass insert to screw boards safely in different positions and with a smooth frosted finish.


– // – // – // – // – // –


Some link: